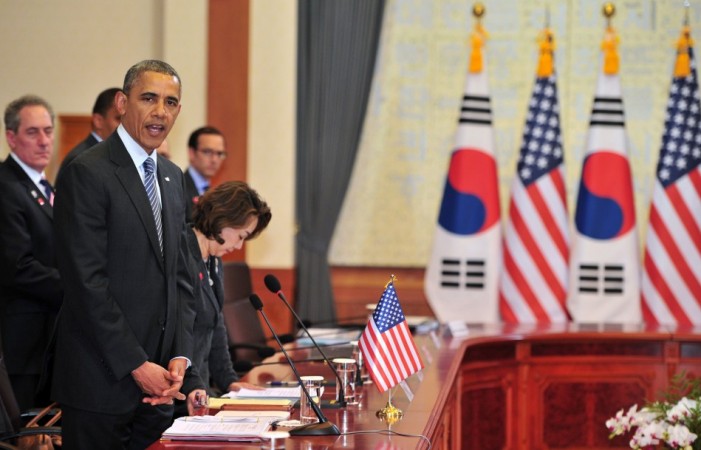 Wrapping up his four-nation Asia trip to Japan, South Korea, Malasia and Philippines, US President Barack Obama on 29 April said America's security pact with Philippines will help promote peace and stability in the country, which is unsettled with China's claims on its disputed territories.
Philippines has signed a 10-year agreement with the US to give the American military forces a greater access to its bases. The US President praised the cooperation of both forces of the US and Philippines, during the World War II battles.
Obama's praise of the forces of the two countries came when he visited Manila's American Cemetery in Bonifacio, which is the final resting place of 17,000 military personnel of the war, including 600 Filipinos and the rest of them the US troopers.
Obama said the security arrangement with Philippines will help to promote peace and stability in the region.
Flanked by Philippine President Benigno S Aquino III, Obama said: "We also see the spirit of this nation in all that you have overcome -- colonialism and occupation, invasion and dictatorship. Yours is a fierce independence, won through sacrifice and renewed with each generation. And we saw that again this year. After Yolanda, America grieved with you and stood with you. But we were also inspired by your resilience and your determination to care for those who had been affected."
Obama covered a total of 21,000 miles in the eight-day trip to the four Asian counties. This was Obama's third foreign trip in this year.
Obama assured the four allies in Asia that the US will stand by them in their disputes with China, relating to land territoties and sea portions. However, Obama's administration also claimed a breakthrough in the 12-nation negotiation, called "Trans-Pacific Partnership." Obama considers the proposed partnership as a significant one for his rebalancing US foreign policy with fast developing Asian countries.
The US government's partnership for growth leverages the resources and tools of its partners, especially the private sector, to increase the effectiveness of policies and institutions necessary for development.
(Ed: VP)