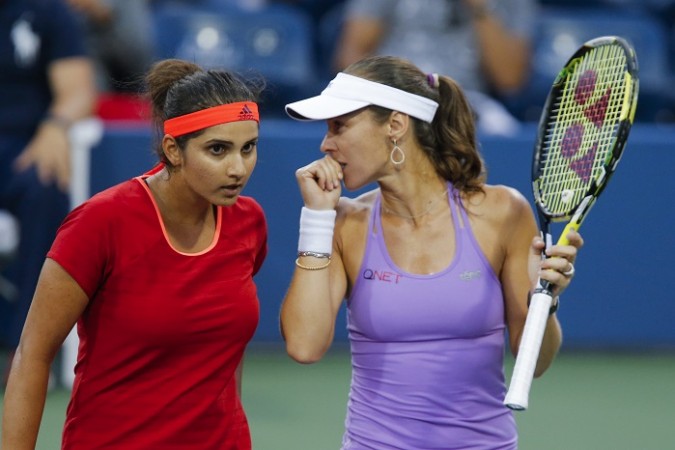 Plenty of Martina Hingis signature volleys, a whole host of ripping Sania Mirza forehands – some of those crosscourt ones were just plain ridiculous -- and the world number one team cruised to their second straight Grand Slam title, beating Casey Delacqua and Yaroslava Shvedova to lift the US Open women's doubles crown.
Coming off a title win at Wimbledon, Sania and Hingis were the favourites to add a second major to their kitty in 2015, and after coasting through the earlier rounds, that dominance continued in the final as well, as the Indian-Swiss combine got the better of the Australian-Kazakhstan pair 6-3, 6-3, never relinquishing their hold on the match, while playing a near-perfect doubles match.
Hingis and Sania, who won her first US Open women's doubles title, play with such big smiles on their faces, and those beaming smiles never left them in that first set – or the second for that matter -- even when there was a bit of a stumble.
After the first three games went to serve, it was onto break-serve mode in this women's doubles final, with Delacqua succumbing to some booming forehands from Sania and those expert volleys from the Swiss Miss.
However, Shvedova and Delacqua, who has now lost six Grand Slam finals, would not go away so easily, though, and they took advantage of some sloppy serves from Sania to bring the set back on serve at 3-2, only to throw it all away again as Sania and Hingis broke one more time.
There would be no comeback from this break of serve, as the score went to 5-3, leaving Sania to serve for the first set. After a couple of nervy points, Sania and Hingis ran-off four points in a row, the final two coming from a sumptuous Sania forehand and a trademark Hingis volley, to lock in the first set.
With Shvedova and Delacqua firmly locked behind the eight ball, you felt the match was there for the taking for Sania and Hingis, and that feeling only heightened when Shvedova had her serve broken first game of the second set.
Serves were held by both teams in the next few games, but that air of inevitability of a Hingis-Sania win never really left.
The second break of the second set came in the seventh game, to love, courtesy a couple of stunning groundstrokes from Sania – one a backhand winner down the line, the other a forehand crosscourt, that had Martina, who last won a women's doubles title here in 1998 with Jana Novotna, nodding her head in approval.
With a 5-2 lead, Sania and Hingis had two opportunities on serve to win the title, and the first one went away pretty quickly as Shvedova and Delacqua got one break back to make it 5-3, with the Wimbledon champions getting a little tight.
It looked like Sania and Hingis had thrown a couple of half chances in the next game as well, but they hung in there, and a double fault gave them a championship point, which was fittingly won courtesy a Hingis putaway volley.
A quick hug and it was job done – a second consecutive Grand Slam title, and now on we go to winning plenty more.