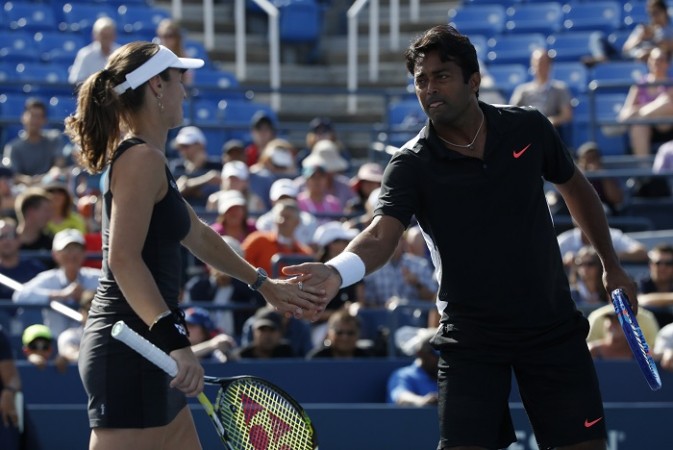 It wasn't as easy as some of the others – especially that Wimbledon final – but Leander Paes and Martina Hingis continued along their merry winnings ways, picking up their third Grand Slam title of the year with victory in the mixed doubles final of the US Open 2015.
Paes and Hingis have looked like a match made in heaven, and after clinching the Australian Open and Wimbledon earlier this year, the US Open title almost looked inevitable. So it proved to be as well, with the Indian-Swiss pair coming up trumps in a super tiebreaker, after dropping the second set.
There are no best of three sets in this Grand Slam for some reason, it is two sets and a super tiebreaker, and after Paes and Hingis, seeded fourth in the tournament, won the first 6-4, the experienced American pair of Bethanie Mattek-Sands and Sam Querrey kept the crowd in it by winning the second 6-3.
In the super tiebreak – the first to ten points, by a margin of two, wins it – Paes and Hingis brought out all their previous Grand Slam winning experience to clinch it 10-7.
"It's awesome," a beaming Hingis, who also has the chance to win the women's doubles, said. "Like I said before, once we started the year and, you know, to walk away with three Grand Slam titles this season, it's amazing.
"So it's incredible. I mean, like I said, I'm so lucky and fortunate to have Leander as a partner on my side. I know he has my back all day long. If I don't come up with a return, but ten double faults, I get the point.
"No, it's amazing the understanding we have for the game, like for each other, how we cover the court at the net, baseline, whatever works. Even one thing doesn't work we come with plan B or C, like it was [in the final].
"I think it was just a great match to play. I mean, they are both great champions. You know, Bethanie has two titles this year in doubles, mixed, a finals now. She can choose any partner.
"I feel like anybody we would face right now I just feel like we're almost invincible going on court. I think we have that extra point when we walk on court and we have a little bit of this aura that they have to try to come up with the best that they can to beat us."