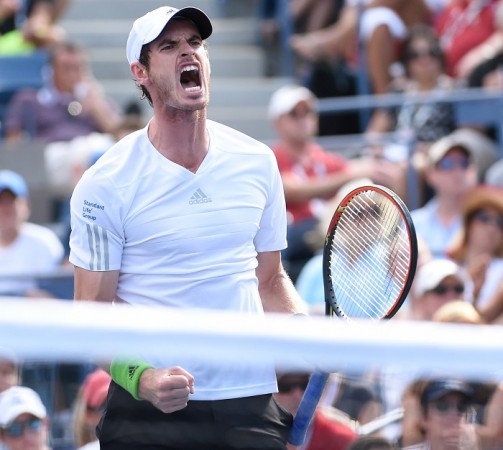 Andy Murray fended off Jo-Wilfried Tsonga 7-5, 7-5, 6-4 in intense heat at Flushing Meadows on Monday to reach the quarterfinals of the US Open. The 2012 champion earned his first win over a top-10 player since his Wimbledon triumph last year to set up a clash with world number one Novak Djokovic.
World number one Djokovic was the first man through to the quarterfinals of the US Open on Monday, sweeping past Germany's Philipp Kohlschreiber 6-1, 7-5, 6-4 under a baking New York sun.
Djokovic, who has reached the final at Flushing Meadows each of the last four years and won it all in 2011, has been in storming form, giving every indication that the big Serb plans to be playing for the title again on 8 September.
"I'm very glad obviously that I had so many consecutive quarterfinals of grand slams, it says that I do value these tournaments the most and try to always perform my best tennis in them," said Djokovic. "Obviously motivates me for the future to continue that streak, of course.
Murray said he hoped Wednesday's quarterfinal between the two would go the same way as both their battle for the Wimbledon title and the 2012 US Open final, which he won.
"It'll be a tough match," the Scot said after a two hour, 35-minute battle in humid conditions with temperatures close over 32 degrees Celsius.
"We've had a lot of long ones, normally a lot of rallies, long points. We played a lot of long ones here a couple of years ago and I have great memories of that match. It's going to be very hard but if I play well, I'll have a chance.
Eighth seed Murray dominated the first set, taking it thanks to one break in the 12th game.
But the 27-year-old had to come from 4-2 down in the second set to go 2-0 up, smashing a forehand down the line off the Tsonga serve.
Again Murray found himself behind in the third and if ninth seed Tsonga had converted one of three break points at 2-0 he would have faced an uphill task to get back into the set with a double-break against him.
But the Scot raised his game when he needed to and secured his place in the last eight.
"I feel like I'm playing well," he said. "I'm going to have to play extremely well to win the event or even win the next match. A week ago I didn't feel great at all and a week later I'm in the quarters so a lot can happen."
Australian Open champion Stanislas Wawrinka fought off two set points in the pivotal third set on the way to a 7-5, 4-6, 7-6 (7), 6-2 win over Spain's Tommy Robredo.
After splitting the first two sets, the third-seeded Swiss trailed 6-4 in the third-set tiebreaker but battled back to win 9-7 and closed out the victory over the Spanish 16th seed in the fourth set.
"It was a really tough battle today. It's always tough to play against him, he is always fighting," said Wawrinka."
Wawrinka will play either big-serving Canadian Milos Raonic, the fifth seed, or 10th-seeded Kei Nishikori of Japan in the quarter-finals