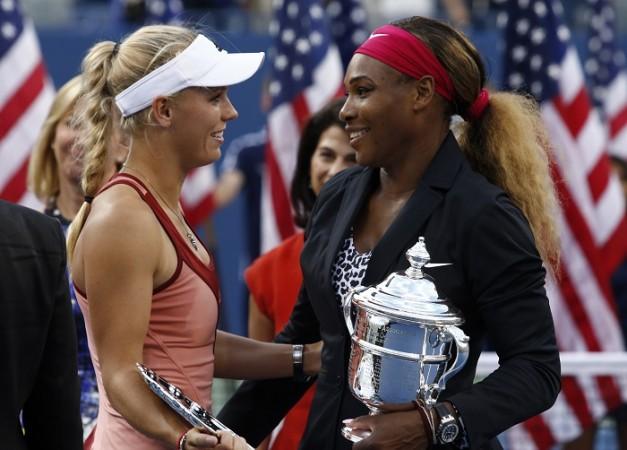 Caroline Wozniacki's wait for her first Grand Slam title continued as good friend Serena Williams' power and big match nous proved to be far too big a hurdle to cross. Williams was just too strong and too good for Wozniacki, as the American eased to her sixth US Open title, and 18th Major victory courtesy a straight set win at Flushing Meadows on Sunday.
The US Open women's singles final was billed as the match between two great friends, but when it came to time on the court, there were no favours handed out by Williams, with the 32-year-old dispatching her 24-year-old opponent with consummate professionalism and ease 6-3, 6-3.
Williams' remarkable 18th Grand Slam title means she now joins fellow all-time greats Chris Evert and Martina Navratilova, with the famed duo presenting the American with an 18-carat Tiffany bracelet as a token of appreciation after the match.
"It means a lot to me," said Williams. "You know, I just could never have imagined that I would be mentioned with Chris Evert or with Martina Navratilova, because I was just a kid with a dream and a racket. Living in Compton, you know, this never happened before.
"I just never could have imagined that it could have ended -- not ended. I'm just beginning. Well, I'm not beginning, but I could have gotten this far. So it was just -- I think it was -- and then it was eluding me for three tournaments, I guess. But, still that's a lot for me. I was like really excited to get it."
While Williams will now have her sights on equalling Steffi Graf's record of 22 Grand Slams and possibly even Margaret Court's amazing 24, Wozniacki will walk away once more with that "what if" feeling, having done so well to get to her first Grand Slam final in five years.
But then, everyone in the sport knows, if Williams is on her game, there is very little anyone can do about it – and on Sunday night, she certainly was, firing a massive 29 winners to the Dane's four.
"When she's on her game it's not fun to play her," said Wozniacki on Sunday. "She's so strong. She has a good serve and she puts pressure on you straightaway. Today I went out there and I was a little nervous.
"I had a game plan in mind, but it was kind of difficult at the start. I tried to push her back, but that really didn't work for me. She really just stepped in and she was playing aggressive. She was playing better than me."