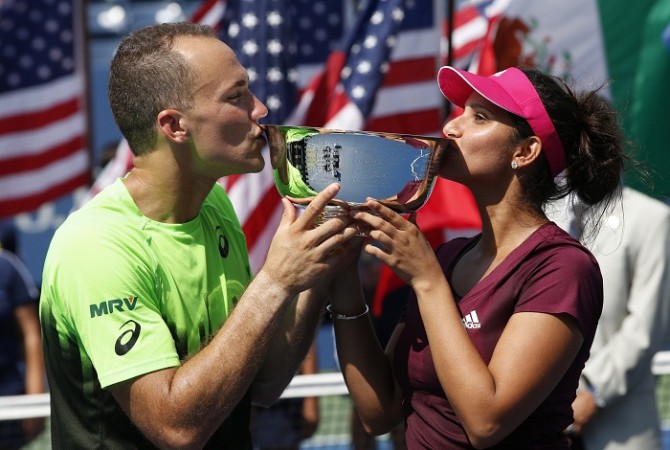 Sania Mirza picked up her third Grand Slam crown, and for the first time with a partner not named Mahesh Bhupathi, as the Indian ace and her Brazilian doubles partner Bruno Soares justified their top billing by clinching the US Open mixed doubles title.
The number one seeds had to fight off a stiff challenge from American Abigail Spears and Mexico's Santiago Gonzalez, eventually prevailing in a nail-biting super tie-breaker to clinch the match and the wonderful crown that goes with it 6-1, 2-6, 11-9.
Mirza and Soares have flirted with danger on quite a few occasions in this US Open, allowing the match to go to the anybody-can-win-it super tie-breaker every single time barring the second round, and Friday was no different as the Indian-Brazilian pair let slip an early advantage.
Having taken the first set smartly, the onus was on the number one seeds to continue the momentum and finish the match off early, but Spears and Gonzalez just would not go away, forcing the super tie-breaker with an emphatic second set win.
The decider was dominated by Sania and Soares, and the duo, at one point, held five championship points at 9-4. However, amazingly, they let all of those match points slip, with nerves coming in the way as Spears and Gonzalez eyed a stunning comeback.
"They went by fast," said Soarez about losing all of those match points. "That's all I remember."
"I got tight," added Mirza. "He held his nerve. I needed that a little bit with my serve. I was serving well till then. You know, I was making a lot of first serves. It's never easy.
"No matter how many you win, never easy to close it out. That's when you need I think partners and that's what helps when you partner up with each other. You're happy to come through that."
However, they gathered their thoughts and nerves in the changeover with the super tie-break at 9-9, going on to win the next two points to seal victory.
Sania's celebration showed just how much the win meant for the 27-year-old, with the Hyderabadi hopping like a rabbit in delight before jumping into the arms of her doubles partner.
"We had a really good start. Started playing really well from the beginning," said Soares, summing up the match. "Got an early break and managed to win the first set 6-1. Second set, first two games we both served well. On the third game we were playing a good game until 30-40 and Abigail came out with two aces under pressure on those two break points we had. I think that's where it changed a little bit.
"They started playing much better. We couldn't really get back into the match. But I think the best thing we did is just to stay positive and as soon as the breaker started, we got an early lead and started playing aggressive. Got back to our game.
"Until 9-4. Then we struggled a little bit few points here and there. But again, I mean, it's not easy to win. It's a Slam. But at 9-all we came out, we kept fighting positive, and played our game. In the end it worked out."