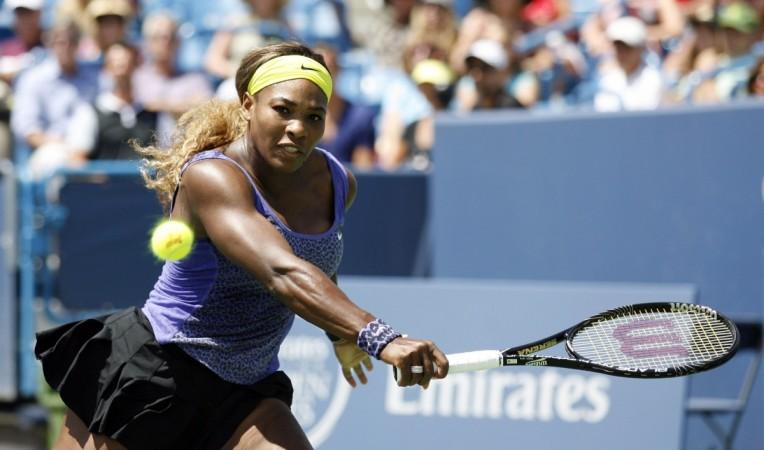 Two-time defending champion Serena Williams will open her US Open campaign with Chris Evert and Martina Navratilova's 18 Grand Slam titles record in sight, while Canada's Eugenie Bouchard and Serbian Ana Ivanovic will also play their first round matches at Flushing Meadows on Tuesday.
A win at the US Open will put Serena tied second in the all-time Grand Slam winners' list, four titles behind Steffi Graf, in the Open era. The world number one is heading into the tournament as the favourite to defend her US Open title, after her great run in the lead-up tournaments.
The 17-time major winner seems to have recovered from her Wimbledon wobble, as she recently won the Cincinnati Masters and the Stanford Open. The American also clinched the US Open Series women's title and her game does look like being back to its best, after losing out on the first three Grand Slams of the year.
"Yeah, Australian, Wimbledon, and French also could have been 18," Serena said. "Did not quite happen. I am in some of the best shape I have been in. I can play long points and be ready to go again. I feel really fit, 32 is the new 22, right?"
Serena is set to face countrywoman Taylor Townsend in the first round. Townsend is currently 103rd in the WTA rankings and lacks the game to trouble the five-time US Open champion.
Meanwhile, Bouchard will be looking to continue her fine showing in the Grand Slams. The Canadian reached the semis of the Australian Open and French Open, while losing in the final of Wimbledon.
Bouchard, however, failed to carry her fine Wimbledon showing onto the hard courts, and has performed below par in the built up events to the US Open.
The world number eight is not in the best of shapes heading into the US Open as she lost in the first round in both Toronto and Cincinnati.
"I am not worried too much about my lead up to the US Open," Bouchard said. "I have looked back, and before all the Slams I have had different lead ups, and have done well in them.
"You never know what's going to happen, is my point. I don't think there is a magic recipe of what you can do before a Slam to guarantee a win, because you can never guarantee the result."
The seventh-seeded Bouchard will face Olga Govortsova of Belarus in the opening round. Bouchard has played Govortsova once, in 2012, when the Canadian edged her Belarusian opponent in a hard-fought three-set encounter.
Although, Bouchard's hard court season has not been great, she is all set to start her US Open campaign with a dominating win.
"I am going to go in swinging from the first round," Bouchard said. "It's important for me to go in and go for it. Whether I have played 10 matches or not, I still have to fight and battle no matter what. That's what I am going to do."
In another first round match, Serbian Ivanovic will face Alison Riske of the United States. The Belgrade-native defeated her American opponent in their last meeting in Auckland.
The Serb is heading into the tournament on the back of some fine performances. She reached the final of the Cincinnati Masters by defeating the likes of Svetlana Kuznetsova and Maria Sharapova.
However, Ivanovic has traditionally struggled in the US Open, as her best showing is a 2012 quarterfinals appearance, which she is hoping to improve on this year.
"It's been a good summer for me so far," Ivanovic said. "Cincinnati was a very good tournament for me and I feel like I'm on the right path. Unfortunately the US Open has always been the most difficult Grand Slam for me, but I hope to change that this year."
Schedule of Play
Alison Riske vs Ana Ivanovic starts 8:30 pm IST
Olga Govortsova vs Eugenie Bouchard starts 11:30 pm IST
Petra Kvitova vs Kristina Mladenovic starts 1:30 am IST
Serena Williams vs Taylor Townsend starts 7:30 am IST
Where to Watch Live
The day's action is scheduled for 8:30 pm IST (3:00 pm GMT, 4:00 pm BST and 11:00 am ET) start with live coverage on Ten Sports in India and live streaming option HERE. International viewers can catch the action HERE and HERE or listen to the action free HERE. The live updates of all matches are available online HERE, HERE or HERE.
Eurosport will broadcast matches live in the UK and Europe. Viewers can also live stream the action HERE or listen to the action live online on BBC HERE. Catch the action live on ESPN Network and CBS Sports Network in the United States or see live streaming HERE or HERE. SuperSport will telecast the action in South Africa and Sub Saharan Africa and viewers can catch the matches live HERE.