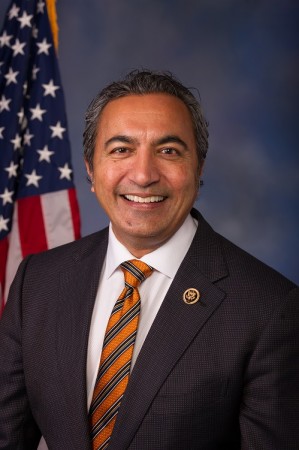 Ami Bera, an Indian-American Congressman from Silicon Valley who is running for his third consecutive term and the elections for which would be held on November 8, 2016, has been endorsed by a newspaper, Sacramento Bee.
"Bera is a hardworking and thoughtful member of Congress who has shown that he is willing to find common ground with Republicans, to the extent possible in these partisan times. We recommend voters return the Elk Grove Democrat to Washington for a third term," Sacramento Bee wrote in its editorial section.
Bera, 51, is the third ever Indian-American to be elected to the House of Representatives after Dalip Singh Saund in 1950 and Bobby Jindal in 2000s. Currently, he is the only Indian-American in Congress.
"I am honoured to be endorsed by the Sacramento Bee. As a doctor, I have lived a life committed to service and would be honoured to continue serving the people of Sacramento County in Congress for another two years," Bera, who is contesting from the seventh Congressional District of California, said.
The Sacramento Bee in its editorial also based its endorsement on Bera's record and expertise and matched them against his competition Sacramento County Sheriff Scott Jones.
Jones had been supporting Trump until recent allegations against Trump's alleged sexual assault and misogynistic comments cropped up. The Sacramento Bee also pointed out that they are in disagreement with Jones, who has been advocating for allowing adults to be liberally granted permits to carry conceal firearms.
On the contrary, the Bee said Bera, who has also served as an associate dean for admissions at UC Davis medical school, where he engaged in efforts to curb the rising costs of college education, can help focus attention on healthcare threats, including the spread of the Zika virus.
"Bera, the only member of Congress who is the son of immigrants from India, sits on the Foreign Affairs Committee, where he has focused on trade, which benefits the Central Valley," the Sacramento Bee noted.
If re-elected for the third term, Bera would equal the record of Dalip Singh Saund, who was elected to the House of Representatives from the 29th Congressional District of California from January 1957 to January 1963. Jindal, who later went on to become the two-term Governor of Louisiana, was elected to the US House of Representatives twice in 2004 and 2006.
Presented below is a partial list of Bera's policies and initiatives, according to his biography in bera.house.gov:
Congressman Ami Bera represents California's 7th Congressional District (east of California's capitol city, Sacramento) in the U.S. House of Representatives.

The first bill he introduced and helped pass was No Budget, No Pay, which says if Members of Congress don't do their jobs and pass a budget on time, they shouldn't get paid. He's now fighting to make No Budget, No Pay permanent and has repeatedly voted against congressional pay raises and has fought perks like letting Members of Congress fly on first class while having taxpayers pick up the bill.

He's also the Co-Chair of the Congressional Problem Solvers Caucus, the only bipartisan group of its kind in Washington, where both Republicans and Democrats can find common ground on the crucial challenges we all face. By working with people in both parties, he's helped secure important achievements such as the 21st Century Health Care for Heroes Act to modernize and streamline health care for veterans and to reduce the VA backlog.

Congressman Bera has also made it a priority for his office to make government work for Sacramento County. His office has now helped return more than $3 million to local taxpayers – everything from backlogged veterans' benefits to Social Security savings.

Congressman Bera is focused on creating more jobs and opportunities in Sacramento County and has held job fairs to connect unemployed workers with jobs, created a comprehensive Job Seeker Resource guide to help jobless residents, and has supported crucial infrastructure projects such as upgrading the Folsom Dam to create jobs and to improve safety.

Congressman Bera is also the founder and Chair of the California Public Higher Education Caucus and is committed to making college affordable for all Americans.