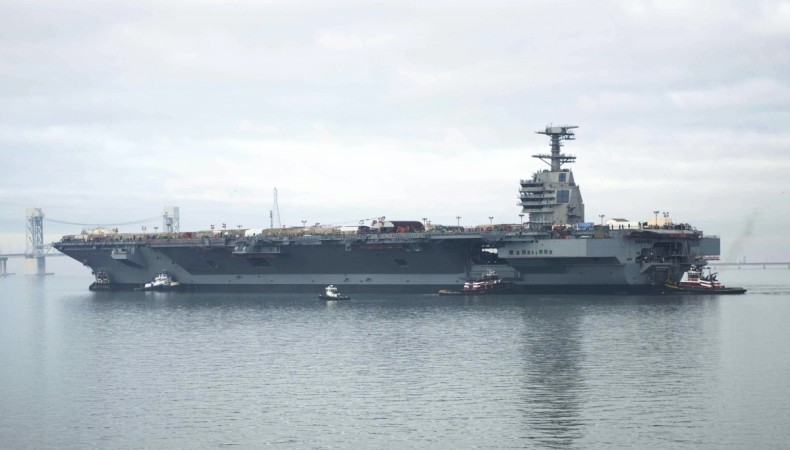 A United States Navy carrier strike group is headed to the Korean Peninsula as US strengthens its defences against North Korea's elevating nuclear threats.
Spokesperson of the US Pacific Command, Commander Dave Benham said that North Korea continues to be the number one threat in the region because of its "irresponsible and destabilizing program of missile tests and pursuit of a nuclear weapons capability."
"US Pacific Command ordered the Carl Vinson Strike Group north as a prudent measure to maintain readiness and presence in the Western Pacific," Benham said, according to AFP.
The strike group reportedly includes the Nimitz-class aircraft supercarrier USS Carl Vinson, a carrier air wing, two guided-missile destroyers and a guided-missile cruiser. The US Navy group, which was originally scheduled to make port calls in Australia from Singapore, headed direct for the Western Pacific Ocean instead.
North Korea has carried out a total of five nuclear tests so far, and according to an expert satellite imagery analysis Pyongang may be preparing for a sixth test soon.
US intelligence officials have also said the North Korean nation could be less than two years away from developing a nuclear warhead that could reach the United States.
North's leader Kim Jong-un has warned the US of launching a preemptive nuclear strike, if the US nuclear forces mobilise against it.
Meanwhile, US President Donald Trump hosted Chinese President Xi Jinping on Thursday and Friday for bilateral talks. Trump, during the talks, urged China, North Korea's key ally, to help in stopping Pyongyang's nuclear weapons programme.
The US Secretary of State, Rex Tillerson, last month, had said the US is also considering military actions against North Korea if it continues with the testing of nuclear and ballistic missiles.
General Lori Robinson, the head of North American Aerospace Defense Command (NORAD), which provides missile detection and defence for the region, on Thursday said she was "extremely confident" that the US can intercept a potential intercontinental ballistic missile (ICBM) headed for America from North Korea.