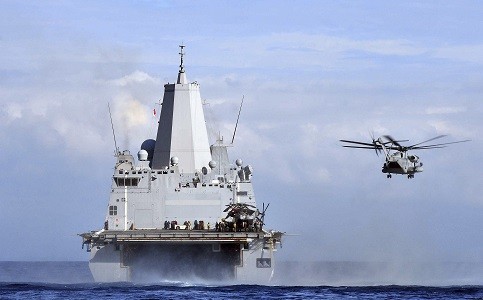 A new agreement has been signed by the U.S. Navy and the Defense Advanced Research Projects Agency (DARPA) to launch a program that will build long-range, small reconnaissance drones and can be launched from ships.
The new program is based on Tactically Exploited Reconnaisance Node (TERN), an existing DARPA program. The objective of TERN has been to look for concepts and designs for unmanned aerial systems operating from smaller Navy vessels.
"This represents a new approach to providing long-range, long-endurance aircraft based off Navy ships," Gil Graff, deputy program manager of TERN from the Office of Naval Research (ONR) in Arlington, Virginia, told Live Science.
Modern warfare requires high technology to fight against any odds. Striking mobile targets and conducting airborne reconnaissance and surveillance is of utmost importance , according to DARPA. However, present technology falls short in these areas. Helicopters face distance and flight time limitations and fixed wing manned and unmanned aircraft, which can fly farther and longer, need aircraft carriers or large fixed land bases with runways stretching to more than a mile.
To fix the problem, TERN will utilize smaller ships to be launched from the sea directly and improve long-range and medium-altitude drones. " The aim is to allow a full-scale prototype drone launched from a vehicle that is almost equivalent to an Arleigh Burke-class destroyer," DARPA officials said.
Arleigh Burke-class destroyers are approximately 505 feet (154 meters) long and are generally equipped with several anti-submarine and anti-aircraft missiles.
TERN is comprised of three phases.The contract for the first phase of testing , which has been given to five drone-makers, will focus on designs for unmanned vehicles. One or more of the drone-makers will move to the second phase. Preliminary design and risk reduction shall be the prime focus for TERN. Phase 3 will see a performer selected for building a full-scale demonstrator for the TERN system for ground-based testing and an at-sea demonstration of launch and recovery according to DARPA.
"Ideally, this collaboration with ONR could serve as a model for similar agreements with all the Services for other DARPA programs, and help create breakthrough capabilities for military users," Daniel Patt, DARPA program manager for the TERN program, said in a statement.
The new TERN program could lead to potential partnerships in developing innovative and cutting-edge military technologies, according to agency officials.