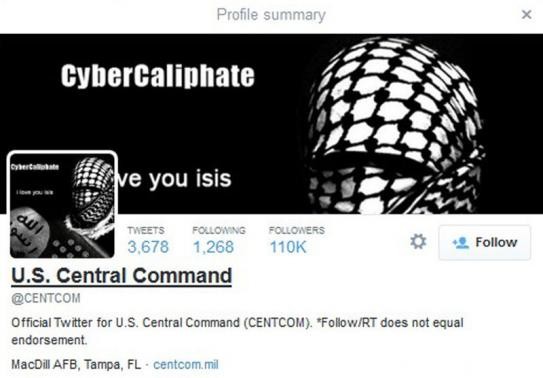 The Twitter and YouTube accounts of the US military Central Command were hacked on Monday by people who claimed to be supporters or sympathisers of the Islamic State or ISIS militant group, who are being targeted by the US-led air-strikes in Syria and Iraq.
"American soldiers, we are coming, watch your back, ISIS," the hackers posted on the US Central Command Twitter feed.
The US officials acknowledged that the hacking episode that lasted not more than 30 minutes was 'embarrassing' but played down the magnitude of the incident, reported Reuters.
"It's inconvenient, it's an annoyance but in no way is any sensitive or classified information compromised," Pentagon spokesman Army Colonel Steve Warren told reports.
In a statement, Defense official said: "operational military networks were not compromised and there was no operational impact."
Official from Central Command also said that military networks were not compromised and there was "no operational impact" from the incident, adding that no classified information was posted by hackers.
"Additionally, we are notifying appropriate DoD (Department of Defense) and law enforcement authorities about the potential release of personally identifiable information and will take appropriate steps to ensure any individuals potentially affected are notified as quickly as possible," the command said in a statement.