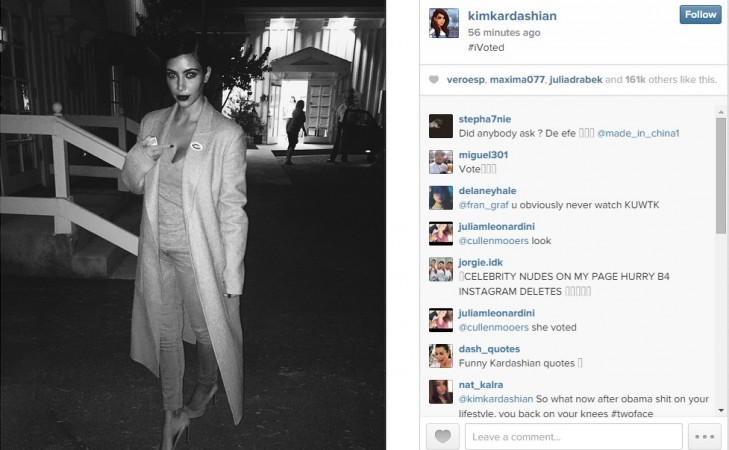 If you want to get people to do anything, just get celebrities to endorse it. The US authorities did exactly the same to get people excited about the American Midterm Elections. Celebrities like Kim Kardashian, Lena Dunham, Whoopi Goldberg and Lil Wayne have been relentlessly chatting on social media platforms about the elections that were held on 4 November.
TV's queen show runner of "How to Get Away With Murder" and "Scandal" fame Shonda Rhimes had posted "Tomorrow? Go vote. No matter who you wanna vote for. Ain't democracy awesome? #BeACitizen #GladiatorsVote #FutureSurgeonsVoteToo", while Indian-born American cookbook author and model Padma Lakshmi urged, "There's a lot on the line for women this election—access to abortion, birth control, & basic health care. The only way to stop it: GO VOTE!"
"Modern Family"s Jesse Tyler Ferguson bribed prospective voters with "I Voted" stickers. He said, "Go #vote today! Be the change you want to see in the world. Plus, it's a great opportunity to take a selfie with an 'I voted' sticker."
However, if the following tweet from Sir Patrick Stewart did not persuade you to vote, nothing ever can.
Your country needs YOU (to vote) pic.twitter.com/HnglnO1dNB

— Patrick Stewart (@SirPatStew) November 4, 2014
After casting their votes too, these celebrities who have taken the role of upright citizens were quick to proudly announce it on Twitter and Instagram. "Ugly Betty" star America Ferrrera posted a photo of herself after she cast the votes:
I just voted and you should, too! #GoVote and let your voice be heard. cc: @votolatino #PowerofOurVote pic.twitter.com/4CwmUmMFCB — America Ferrera (@AmericaFerrera) November 4, 2014
Kim Kardashian West, an admitted Democrat posted an animated image of herself with the US president Barack Obama on Instagram with the comment, "I've voted! Have you?"
Got my Ray Charles T, my snacks, and my most important sticker accessory #TurnOutForWhat @RockTheVote pic.twitter.com/kuLSJWCdIJ

— Darren Criss (@DarrenCriss) November 5, 2014
The most impressive voter during the Midterm Elections 2014 was undoubtedly rapper Lil Jon, who flew across the US from Los Angeles to cast his vote in Georgia after he was unable to get his absentee ballot.
The rapper had shared this post on Instagram as well, basically shaming anyone in America who did not vote for the Midterm Elections of 2014. He has remained an integral part of the "Rock The Vote" campaign, for which one of his hit songs "Turn Out for What" was remixed.
The video also featured Lena Dunham, Whoopi Goldberg, Natasha Lyonne, Fred Armisen, E.J. Johnson, Darren Criss, Sophia Bush, Ireland Baldwin, Devendra Banhart, Ioanna Gika and Gabriel Valenciano.