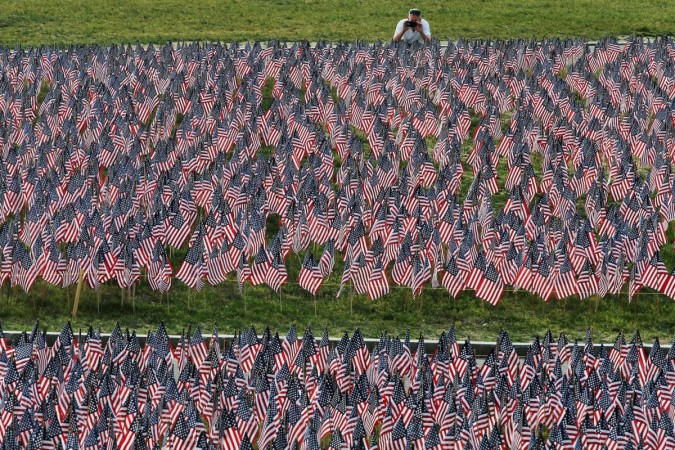 The United States Memorial Day, celebrated to remember the heroes who lost their lives while serving in the country's armed forces, is being observed on May 30, this year.
The Memorial Day was initially celebrated as Decoration Day, and Waterloo, New York, was officially declared as the birthplace of the federal holiday in May 1966 by 36th U.S. President Lyndon Johnson. It then became a formal national holiday on the last Monday of May every year, resulting in a long Memorial Day weekend.
"This Memorial weekend, I hope you'll join me in acts of remembrance. Lay a flower or plant a flag at a fallen hero's final resting place. Reach out to a Gold Star Family in your community, and listen to the story they have to tell. Send a care package to our troops overseas, volunteer to make a wounded warrior's day a little easier, or hire a veteran who is ready and willing to serve at home just as they did abroad. Or just pause, take a moment, and offer a silent word of prayer or a public word of thanks," U.S President Barack Obama said during his weekly address on May 28.
Check out some inspiring quotes by famous personalities to be shared on U.S. Memorial Day 2016:
Our nation owes a debt to its fallen heroes that we can never fully repay, but we can honor their sacrifice. — Barack Obama, U.S. President.
My fellow Americans, ask not what your country can do for you, ask what you can do for your country. — John F. Kennedy, 35th U.S. President.
The willingness of America's veterans to sacrifice for our country has earned them our lasting gratitude. — Jeff Miller, U.S. Representative
On thy grave the rain shall fall from the eyes of a mighty nation! — Thomas William Parsons, poet.
True patriotism isn't cheap. It's about taking on a fair share of the burden of keeping America going. — Robert Reich, former U.S. Secretary of Labor
A man's country is not a certain area of land, of mountains, rivers, and woods, but it is a principle and patriotism is loyalty to that principle. — George William Curtis, writer.
How important it is for us to recognize and celebrate our heroes and she-roes! — Maya Angelou, poet.
It doesn't take a hero to order men into battle. It takes a hero to be one of those men who goes into battle. — General Norman Schwarzkopf Jr., former U.S. Army General.
The average American is nothing if not patriotic. — Herbert Croly, editor
I have long believed that sacrifice is the pinnacle of patriotism. — Bob Riley, former Governor of Alabama