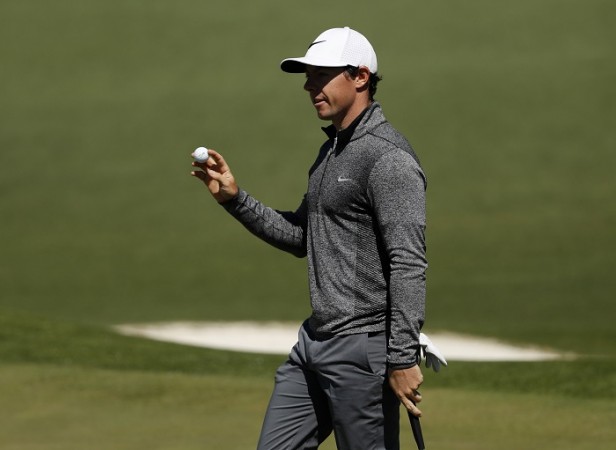 Jordan Spieth threatened to run away with the US Masters again, but then the conditions got the better of him, setting up a potentially mouthwatering final two rounds against Rory McIlroy. After the enthralling second round dust settled in Augusta, Spieth remained in the lead, but only by one shot to McIlroy, who shot the best score of the second round.
Spieth got off to a great start in the second round, and looked to be on his way to a massive lead as the rest of the players struggled to master the Augusta course again, but then a time warning in the back nine combined with the testy conditions led to the defending champion having to settle for a 2-over 74.
"The back nine felt a bit rushed," Spieth was quoted as saying by the US Masters' official website. "You're at 8-under and finish at 4, that's a bit tough. There's so much that can happen. (Saturday) is going to be even more difficult."
McIlroy, four shots behind the leader at the start of the second round, took advantage of the Spieth slipup, by shooting a rather impressive, under the circumstances, 71 to move to within one stroke of the American. The two will play together Saturday, in what should be a battle to savour.
"There's the potential for someone to shoot a few under and move up into the lead from outside the top 25," Spieth warned, insisting this US Masters would not just be about him and McIlroy. "I don't think either one of us is focused on each other. I think we're focused on the golf course."
That golf course took out the likes of Phil Mickelson Friday, with the American veteran failing to make the cut. Bubba Watson just about managed to do so, while world number one Jason Day is tied 15th, after a 1-over par 75 in the second round.
India's Anirban Lahiri will also be a part of the final two rounds of the Augusta Masters, after the 28-year-old improved in the second round, shooting a 75, to end up on 5-over after the first two days. Lahiri is tied 47th in the leaderboard, and while the Indian is not expected to compete for the top spots, more improvements in the final two rounds could take him to the top-30 or even top-20, which would be an impressive performance.
Get the full leaderboard HERE