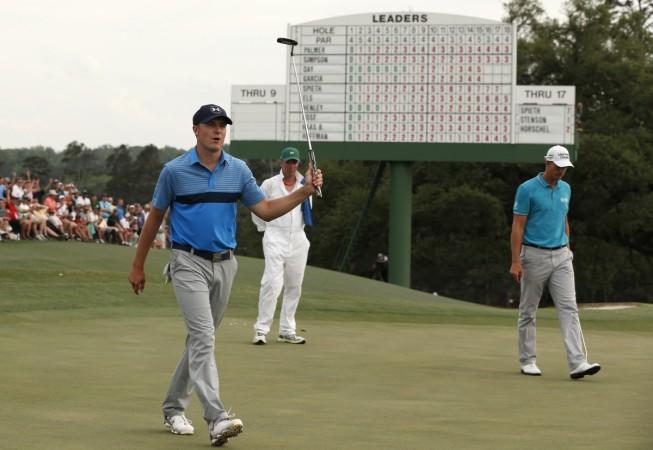 The world had its eyes on Tiger Woods and Rory Mcllroy in the US Masters, which kick-started on Thursday. If Woods was making his comeback, Mcllroy was in search of the Green Jacket.
But, both the golfers were overshadowed by a terrific performance from American Jordan Spieth with an impressive eight-under-par 64 in Thursday's first round.
The American put up an amazing display, where he fired eight birdies in 14 holes. It was a day, where things were going his way. But such performance of Spieth should not come as a surprise as he has some victories in other golf tournaments.
Very few would have thought that the American would take the lead in the first round of such a mega event.
Talking about the lead, Spieth said, "It's tough to sleep on a lead here, and I saw that last year," as quoted by Yahoo.
"But at the same time, I'm a lot more confident in the way that I can handle certain situations, and the patience levels I can have, having closed a couple of events out since [last year]."
One of the favourites, Mcllroy, is seven shots behind the American, hence he needs to have a great day at the Augusta in order to climb the ladder and pose a challenge. Not only Mcllroy, but Woods also did not look very comfortable as he hit some wayward shots as well.
Woods did concede that he made some mistake as well. "I just made a couple of dumb mistakes out there. We all struggled with the slow greens in our group, none of us were sure how hard to hit it," CNN quoted Woods as saying.
Without a shadow of doubt, the hero of the day was American Jordan Spieth, who was also excited about his first day's performance.
"I was excited about the way I struck the ball," Spieth told reporters.
"I'm excited about the start. To make nine birdies out here, that's a dream round for me. It was a lot of fun."
"I played well last year, but I never broke 70."
He would want to improve upon his last year's performance, where he finished joint runners up with Bubba Watson.
If the golfer is consistent throughout the remaining days of the Masters, he could surprise world number one, Mcllroy and win the title.
Where to Watch Live
The live coverage of the Augusta Masters starts at 3pm ET (12:30am IST and 7 pm GMT) with live TV coverage in India on Star Sports 4 HD. Viewers in the US can watch it live on ESPN with live streaming option on Watch ESPN. Audience in the UK would be able to watch the first day of action on Sky Sports 4.
Golf fans around the world can watch it live on this YouTube channel as well.