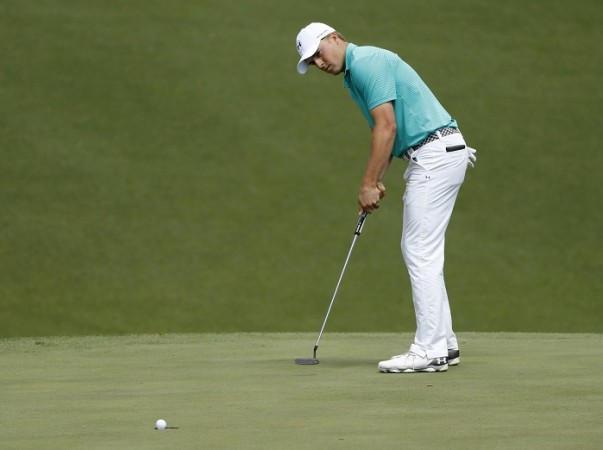 Jordan Spieth cast his spell on Augusta again, as the defending champions played a brilliant first round to take a comprehensive lead over his rivals in the US Masters 2016. Spieth came in as the favourite to defend his title, and he showed just why the smart money is on him with a near-flawless 66.
Spieth takes a two-shot lead into Friday thanks to the six-under par round, and it will take some serious golf for anyone to stop the American from running away with the title again.
"I would have signed for two-under and not even played the round, knowing the conditions that were coming up," Spieth was quoted as saying by The Guardian. "I feel like my game has been trending in the right direction, I just haven't gotten scores out of how I felt I'd been playing. That normally just comes down to putting.
"I certainly made a lot of putts (in the first round). If I can kind of straighten things out with the iron play, hopefully we'll be in business. But I am extremely pleased with that round. We know how to win this golf tournament and we believe in our process."
New Zealand's Danny Lee and Shane Lowry of Ireland are join second on the leaderboard, after their respective four-under pars. Rory McIlroy, Spieth's biggest challenger to the green jacket, is a further two shots behind after finishing his first round with a two-under par 70.
Jason Day might have been there or thereabouts at the top of the leaderboard, but a disastrous three holes on the back nine – where he went five-over par – meant the Australian could only finish with a 72, having completed the first nine in just 31 strokes.
"I'm not too frustrated," the world number one told the US Masters' official website. "It's not the way I planned it, but I played some really good golf to get to 5-under. If I went 41 on the front and 31 on the back, I'd be celebrating right now.
"It was only three bad holes, really, in amongst some really good ones."
If Day's evening was bad, Ernie Els' was much worse, as the South African legend made the worst start possible, opening up the first hole with a quintuple bogey 9 – a record for the 445-yard first hole. In what should have been a solid start, with just a two-foot putt needed to secure par, Els missed the sitter, and then went about missing the hole one after the other in quite dramatic fashion. The South African finished the first round of the US Masters on 8-over par.
Get the complete leaderboard HERE