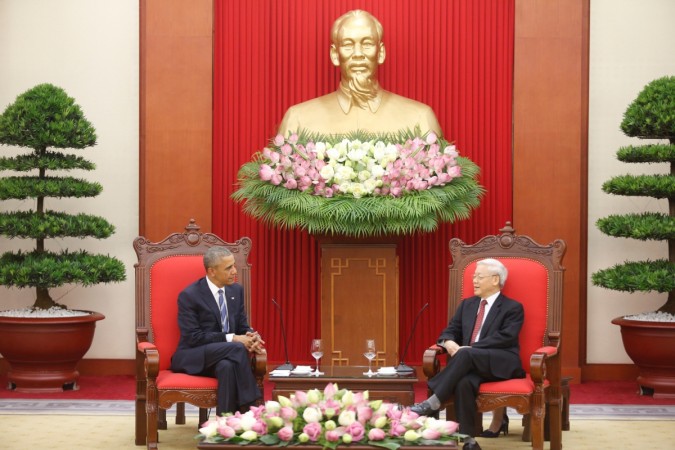 United States President Barack Obama during his visit to Vietnam on Monday said that the U.S. would lift the embargo on the sales of lethal weapons to the country. The decision was reportedly taken in light of threats made by China on Vietnam.
Vietnamese President Tran Dai Quang, who welcomed Obama in Hanoi with a state luncheon, said that his visit to the country was an arrival of "warm spring after a cold winter," according to CNBC.
The decision to lift the embargo has been taken almost 40 years after the end of the Vietnam war and is an indication of the two countries coming together in an effort to counter Chinese aggression in the South China Sea dispute.
"The United States is fully lifting the ban on the sale of military equipment to Vietnam that has been in place for some 50 years," Obama was quoted as saying by the New York Times. He also added, "The decision to lift the ban was not based on China or any other considerations. It was based on our desire to complete what has been a lengthy process of moving toward normalisation of relations with Vietnam."
He also said that the move was meant to remove any "lingering vestige of the Cold War," according to Fox News.
The two countries had entered diplomatic ties 20 years after the war ended. The embargo, the revocation of which was urged by Vietnam for some time now, was eased in 2007 when the sale of non-lethal equipment was allowed. In 2014, the U.S. had also permitted sale of maritime equipment to the country.
Human rights groups had argued against lifting the arms embargo as they believed that Vietnam had not worked adequately towards improving its human rights situation. The Obama administration, on the other hand, said that the increasing aggressiveness of China in the disputed South China Sea warrants lifting of the embargo.