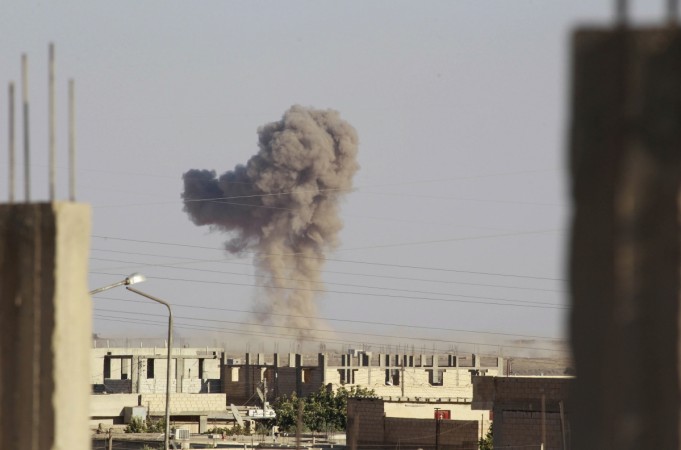 A month after the United States first sent in fighter jets into Iraq to strike the Islamic State, it launched its first airstrikes against the militant group in Syria on Monday.
The airstrikes were conducted by the US and its allies using fighter jets, bombers and Tomahawk missiles on a day when the militant outfit was engaged in a fierce fight with Kurdish forces near the Turkey border.
According to Pentagon press secretary Rear Admiral John Kirby, the military took the decision to launch the airstrikes early on Monday, and is in line with US President Barack Obama's campaign to 'degrade and destroy' the Islamic State.
Obama had said earlier this month that the first step in the plan would be a "systematic campaign of airstrikes."
"I can confirm that US military and partner nation forces are undertaking military action against ISIL terrorists in Syria using a mix of fighter, bomber and Tomahawk Land Attack Missiles," Pentagon spokesperson Rear Admiral John Kirby said.
"Given that these operations are ongoing, we are not in a position to provide additional details at this time," he said, not disclosing the names of nations that joined the US in the operation.
However, several reports suggest that Saudi Arabia and Jordan were among the partner states involved in the strikes. The US is reportedly also seeking support from Turkey to join the fight against the militants.
Monday's strikes could be the beginning of a series of similar strikes in Syria, given that in Iraq, the US has already conducted nearly 200 airstrikes against the militant outfit feared to be the deadliest terror group in the world.
US warplanes had struck Iraq on 8 August for the first time after American troops had pulled out of the war-torn country in 2011after nearly ten years of fighting.
It is believed that United States' decision to attack the Islamic State led to the militant outfit beheading two American journalists over the last month.
The Islamic State has seized several towns in Iraq and Syria to form a territory it now calls the Islamic Caliphate, triggering a mass exodus of locals and communities who want to flee the group's repressive brand of Islam.
However, the main point of difference between the strikes on the two nations is that while the Iraqi government had openly asked for international intervention to resolve the crisis, there has been no such request by the Syrian government. This could mainly be because Syrian President Bashar al-Assad is not popular among western nations, given his poor record of human and civil rights in his country ever since the three year civil war began.
What is further distinct between Iraq and Syria is that the latter has already been ravaged from years of infighting between rebels and the Assad government. The US airstrikes could further lead to large scale destruction in the country, which is considered to be a 'safe haven' of the Islamic State.