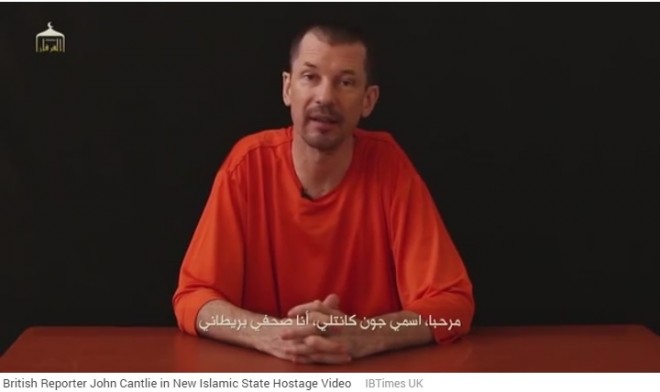 British journalist John Cantlie, recently seen in a video speaking on behalf of Islamic State against Western governments and media, has now appeared in a second video in the 'Lecture Series', warning that American interference in Iraq and Syria could become another 'Vietnam'.
In the five-minute video, Cantlie issues a warning to US President Barack Obama against entering the conflict in the Middle East, and taunts him for sending in only 15,000 troops to take down the Islamic State.
"Not since Vietnam have we witnessed such a potential mess in the making. Current estimates of 15,000 troops needed to fight the Islamic State are laughably low. The State has more mujahideen than this," he has said in the video, first reported by the SITE Intelligence Group, which tracks terror groups online.
Cantlie warns Obama that the Islamic State is the "most powerful jihadist movement seen in recent history", and not "some undisciplined outfit with a few Kalashnikovs".
"The president once called George Bush's Iraq conflict a 'dumb war' and couldn't wait to distance America from it when he came into power. Now he's being inextricably drawn back in," he further says.
The video has surfaced a day after the United States and its allies began conducting airstrikes in Syria for the first time on Monday, a month after it began airstrikes in Iraq to target the militant group. However, reports suggest that the video was made before the airstrikes.
Days ago, the scribe first appeared in a propaganda video, promising to reveal 'the truth' about Western media and governments.
"My name is John Cantlie, a British journalist who used to work for some of the bigger newspapers and magazines in UK. In November 2012, I came to Syria, where I was captured by the Islamic State. Now, nearly two years later, many things have changes, including the expansion of IS, to include area bigger than Britain," he had said in the earlier video.
He had promised to reveal the 'manipulation' by Western media and the 'motivations' of the Islamic State. "Over the next few programmes, I am going to show you the truth as the Western media tries to drag the public back to the abyss of another war... I am going to show you the truth behind the systems and motivation of the Islamic State and how the western media can manipulate and twist the truth for the public back home".