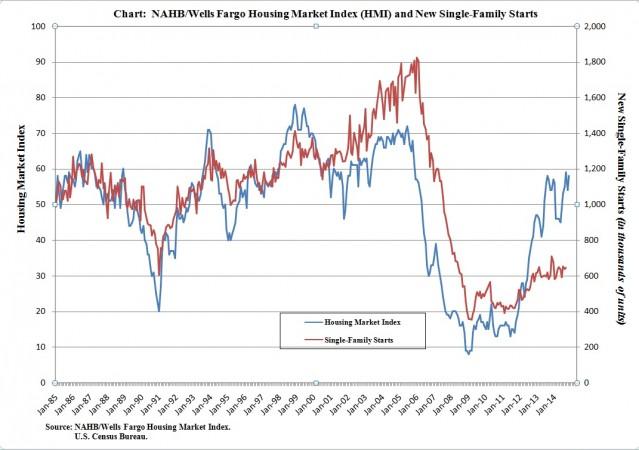 US home builders' confidence rebound four points in November after falling for the first time last month, according to the National Association of Home Builders' latest Housing Market Index (HMI) as the real estate market gears for more buyers.
The NAHB releases a monthly HMI in collaboration with Wells Fargo to gauge general developer confidence in the market. Based on sample perceptions of 300 or more builders, the NAHB survey determines housing trends and demand in the property segment after polling builders on single-family home sales, single-family home sales expectations and demand from potential buyers. Points above 50 are considered good.
November's HMI overall HMI improved 4 points from October's slump. The HMI in all three parameters rose with current sales going up 5 points to 62, future sales moving up 2 points to 66 and buyer traffic increasing 4 points to 45.
"Low interest rates, affordable home prices and solid job creation are contributing to a steady housing recovery. After a slow start to the year, the HMI has remained above the 50-point benchmark for five consecutive months, and we expect the momentum to continue into 2015," David Crowe, chief economist at NAHB said in a statement.
The US property market has been tipping on the buyers' side for quite some time now. Current market conditions make for the perfect buying situation and seasonal trends notwithstanding, experts expect the coming few months to be strong.
Usually, the housing market slows down during the first few months of a year due to the cold and the holidays. But several researches have shown that homes listed in December and November are more likely to sell faster and closer to the asking price.
This is because the holiday season sees more "serious" buyers emerging in the market, especially around Thanksgiving. Buyers tend to close transactions faster during this time so they can save on taxes, the Realtor Magazine explains. Also, as there is less competition and more motivation, November could be the right time to list homes, Trulia suggests.
The cold freeze in the beginning of the year took a toll on the housing market and fears of a harsher winter are still clouding expert predictions.
Snow cover in 48 states in America reached 50.4% on Monday and climate analysts say that last year's severe cold could repeat itself this time too.
"People put last year on such a pedestal like we'll never see that again. It can happen again," Michael Schlacter at Weather 2000 Inc. was quoted as saying by the Sydney Morning Herald.