Lewis Hamilton continued his dominance over the weekend in the qualifying race for US Grand Prix by setting the pace on Saturday at Austin, thereby clinching a 11th pole in 17 races this season.
Hamilton eyes fourth Drivers' Championship
The Brit, who leads nearest title rival Sebastian Vettel by 59 points, is on track to win his fourth F1 Drivers' Championship. Hamilton, who is the defending and five-time winner at Austin, can do it on Sunday if he manages to win the race and Vettel finishes sixth or lower. He can also win it if he finishes second and Vettel finishes ninth or lower.
However, Vettel gave himself a chance to stay in the title race when he recovered brilliantly in Q3 after what had been a poor practice and initial qualifying sessions in Austin. While Hamilton took the pole with a timing of 1:33.108s, the Ferrari driver clocked 1:33.347s to make sure he started from the front row of the grid on Sunday.
Hamilton though said on Saturday that he was not thinking about clinching the Drivers Championship as early as in Austin as he expects Ferrari to give a stiff fight to the Merces in the upcoming races. Notably, Vettel will have a good chance in Mexico next week where the Ferrari have always dominated proceedings.
"It [the title battle] is a bit like a game of chess. Obviously right now it's check [mate] but there's still a long, long way to go. There's still a hundred points available. Sebastian and his team are going to be working as hard as they can, as are we. Who knows? It's going to go to the wire I still think," Hamilton said, as quoted by the F1 official website.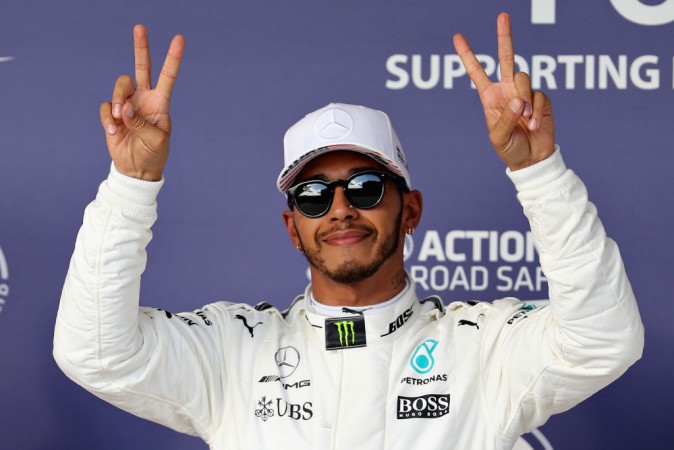 He added: "In the next four races, I think they [Ferrari] are going to give it a great shot and I'm going to do my utmost to try and defend - and not only defend but really maximise and win these races.
"I want to win these races, that's what I'm working towards and naturally, in winning races, points come and championships are won so that's what I'm here to do."
Meanwhile, Hamilton's Mercedes teammate Valtteri Bottas finished third clocking a fastest lap of 1:33.568s. Red Bulls' Daniel Ricciardo will start from the second row after managing 1:33.577s in Q3 on Saturday.
Carlos Sainz impressed in his first race after Jolyon Palmer at Renault as managed an eighth-place finish in the qualifying.
Max Verstappen finished a disappointing sixth while Force India's Esteban Ocon was placed above the impressive Sainz.
When does the story and how to watch it live
The US Grand Prix will start at 7pm GMT, 12:30am IST [Monday].
Live streaming and TV coverage