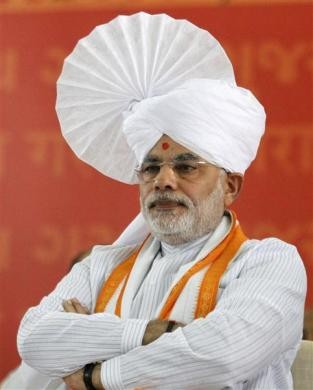 The United States administration has not yet changed its stance on granting visa to Gujarat Chief Minister Narendra Modi in spite of his developing image at the international platforms over his good governance.
Speaking to the reporters, spokesperson of the US state department Victoria Nuland confirmed that the country has not changed its decision over the visa policy towards the Indian politician (Modi).
This comes in the backdrop of US Congressman Joe Walsh's letter to Secretary of State Hillary Clinton seeking to re-look into the country's decision in granting visa to Modi.
Commenting on Walsh's letter to the Secretary of State over the visa policy, Nuland said, "I haven't seen the letter. I think you know that our position on the visa issue hasn't changed at all, so I would guess that if we do respond, it'll be along familiar lines."
When Modi moved for a visa to visit US in 2005, the latter denied the request for his possible involvement in 2002 riots, which was against Muslim community in Gujarat.
According to the US immigrations norms, any foreign government official accused of "any, particularly severe violations of religious freedom" shall not get the permission to visit the country.
In 2005, Modi was invited by the Asian American Hotel Owner's Association (AAHO) for an annual convention as a Chief Guest to address a gathering that held in Florida. However, the accusations against Modi of being part of anti-Muslim riots in his ruling state (Gujarat) prevented the US immigrations to refuse permission for his tour. The US also revoked its earlier tourist/business visa that was granted to him in 1998.
Meanwhile, the Congressional Research Service (CRS), which works exclusively for the United States Congress providing policy and legal analysis to committees and Members of both the House and Senate regardless of party affiliation, on its report on India last year carried Modi as strong Prime Ministerial Candidate in 2014 general elections.
However, nothing seems to have moved the US authorities in changing their stance on issuing a visa to the Gujarat chief minister.
Modi has been relentlessly taking steps to wipe out the blot of post-Godhra riots from his political profile. However, it seems to haunt him without affecting his Chief Ministership.
The subsequent communal clashes and massacre in Gujarat, in 2002, occurred after 58 pilgrims in the S6 compartment of the Sabarmati Express train at Godhra railway station, returning from Ayodhya, were burnt to death. This was touted as a pre-conceived conspiracy and led to stirring up of violence between the Hindus and the Muslims.
After the news of the Godhra train carnage broke out, thousands of people were killed and several places of worship and public properties were damaged by unruly mobs. The nature of this violence still remains politically controversial.