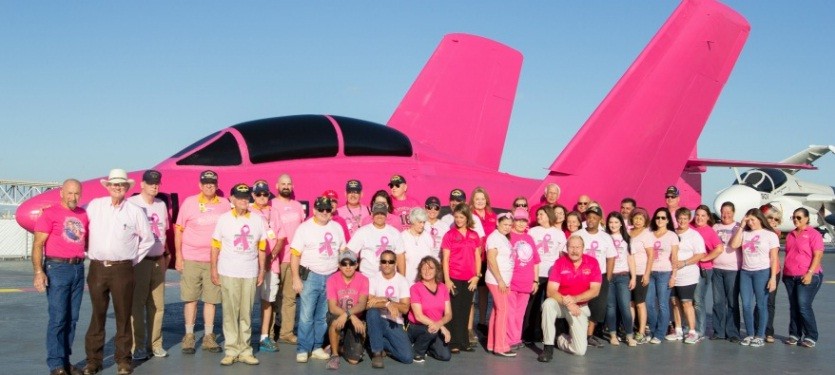 There is pink everywhere in October as people around the world observe it as the breast cancer awareness month. But most people may not see this coming. The USS Lexington on the Bay in Corpus Christi, Texas, on Monday unveiled fighter jet F9F-8 Cougar painted in pink to support those who have fought and continue to fight the battle of cancer.
The retired F9F-8 Cougar will be on display on the flight deck in support of breast cancer awareness, according to a statement from USS Lexington.
[READ: Breast cancer awareness month October 2016: Causes, prevention and diet women should know about]
The paint on the fighter jet is not permanent. It is painted with a vibrant shade of pink called Heliconia and dishwashing liquid has been applied to latex paint to ensure that it can get back to its old colour after the campaign ends.
The idea of painting the fighter jet pink was presented by the Director of Operations and Exhibits, Rusty Reustle, from a technique he observed Disney using while filming the blockbuster movie Pearl Harbor aboard USS Lexington.
Medical professionals, survivors of breast cancer and those still fighting, and well-wishers observe this month to bring awareness on the disease.
According to ww5.komen.org website that campaigns for breast cancer awareness, 246,660 new cases of invasive breast cancer, 61,000 new cases of in-situ breast cancer and 40,450 breast cancer deaths have been reported in the US alone in 2016.