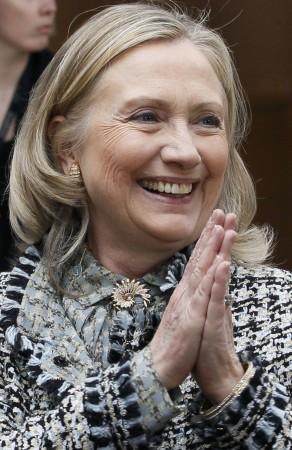 United States has exempted seven nations, including India, from financial sanctions after these countries showed significant reduction in oil imports from Iran.
Countries including India, Taiwan, South Korea, Turkey, South Africa, Malaysia, Sri Lanka will not be penalized and cut off from the US financial system under sanctions signed by the US President Barack Obama last year.
The US had set a June 28 deadline for those countries which have been importing oil from Iran to reduce their imports in order to put pressure on Iran's uranium enrichment program. The US government believes that Iran is secretly developing nuclear weapons, but Iran has said that nuclear program is for civilian purposes.
"By reducing Iran's oil sales, we are sending a decisive message to Iran's leaders: Until they take concrete actions to satisfy the concerns of the international community, they will continue to face increasing isolation and pressure," US Secretary of State Hillary Clinton said in a statement.
India depends heavily on imports to meet its huge domestic fuel demand and is one of the top importers of Iranian oil.
According to the US Energy Information and administration, Iran is one of the world's oil-rich countries and belongs to the OPEC (Organization of the Petroleum Exporting Countries) group of countries. The OPEC countries produce 41 percent of the world's total oil supply. OPEC's oil exports represent about 60 percent of the total petroleum traded internationally.
Earlier in March, the US had exempted 11 nations from economic sanctions for reducing oil imports, including Japan and other EU nations such as Belgium, Britain, the Czech Republic, France, Germany, Greece, Italy, the Netherlands, Poland and Spain.
But India and China, Iran's biggest customers, were not included in the list and were threatened to be penalized if they didn't show significant reduction in oil imports. Following this, Indian government had asked the country's top two importers of Iranian crude to cut their imports.
Talks With China
In May alone, Indian refiners have cut imports from Iran by 38 percent from a year ago, a tanker discharge data showed. For the continous second month, India has decreased oil imports from Iran.
While 18 nations, including Japan and 10 other EU nations, have so far been granted sanctions, China and Singapore, the two important Asian trade partners of the US, have been denied exemption from financial sanctions.
It is not clear why China has been not given a waiver. But people who support imposing tougher sanctions on Iran believe that China has received oil from Iran secretly on cargoes by disabling the tracking devices on some of its shipments, said a Reuters report.
While the pressure on China looms large, Washington continues talks with the country on this issue.
"We have had discussions with China. We continue to have discussions with China," a senior Obama Administration official said on condition of anonymity, according to Indian news agency PTI.
The official added that China has been a very important partner in the P-5-plus-one process (five permanent members of the UN Security Council plus Germany). He said that China has been committed in working towards stopping Iran from acquiring a nuclear weapon.
"It's been committed to working with us to help Iran from acquiring a nuclear weapon. It has shown that it's committed to a dual-track approach of both engagement and pressure, including sanctions," he said.