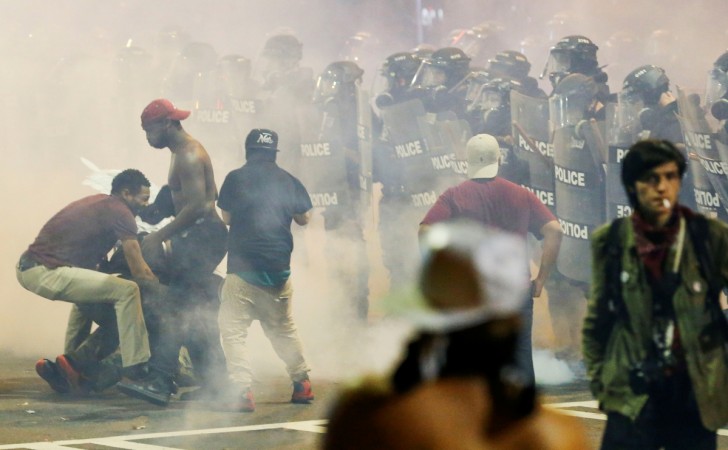 After yet another incident of a black man being killed by the police took place in the United States, protesters in Charlotte, North Carolina, took to streets for the second night of unrest on Wednesday, following which a state of emergency was declared.
The Charlotte police on Tuesday shot dead Keith Lamont Scott, a 43-year-old black man, who was waiting for his son to get free from school. Scott was shot in an apartment complex lot after an encounter with police officers who were looking for a wanted suspect. Police reports state that Scott was armed when he was asked to get out of his vehicle. His friends and relatives, however, say that he was just holding a book.
Violence flared in the city for the second consecutive day after Scott's death, and hundreds of protesters clashed with the police in front of a hotel in the city on Wednesday. The clashes caused injuries to 16 police officers and several protesters. This is the recent case in a spate of fatal police-involved shootings of black men in the United States, which have caused an uproar in the nation.
Around 100 students, mostly African-American, on Wednesday participated in a "lay-in," protesting police brutality, and singing gospel songs. Protesters also held signs of "Legalise being black" and shouted "Black live matter "and "No justice, no peace."
"We are calling for peace, we are calling for calm, we are calling for dialogue. We all see this as a tragedy," Charlotte Mayor Jennifer Roberts said earlier on Wednesday.
US Presidential candidates Donald Trump and Hillary Clinton also commented on the violence in Charlotte, which came shortly after the fatal police shooting of a black man, Terence Crutcher, in Tulsa last week.
"Keith Lamont Scott. Terence Crutcher. Too many others. This has got to end. -H," Clinton tweeted.
Trump called on to "make America safe again" and said that the police officer who shot Scott "choked." He said, "I don't know what she was thinking."
Although the police say that Scott was carrying a handgun while he was shot, his relatives and friends maintain that he was waiting at the bust stop for his son and was carrying a book. They alleged that the police replaced the book with a gun after he was shot.
"He stepped out, posing a threat to the officers, and officer Brentley Vinson subsequently fired his weapon, striking the subject," police chief Kerr Putney said.
Putney, however, added that he did not know whether Scott "definitively pointed the weapon specifically toward an officer."
It is legal in the areas to carry a firearm under the local "open carry" gun laws.