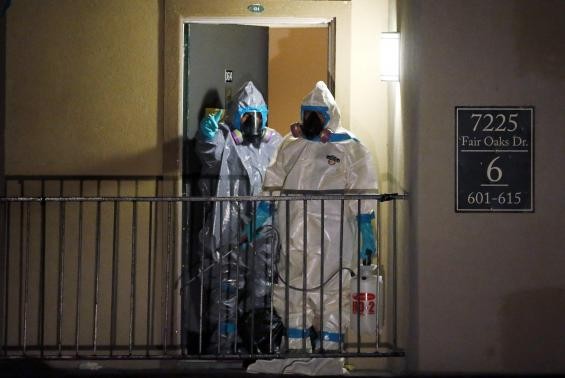 The second health US worker, who has been confirmed for Ebola infection, reportedly travelled from Cleveland to Dallas, breaking protocol and putting 132 passengers onboard at the risk of getting infected by the deadly disease.
Dr. Thomas R. Frieden, Director of Centers for Disease Control and Prevention, said the health worker should not have been on a commercial flight, and should have been allowed only 'controlled movement' especially as she was on Ebola watch.
"She should not have travelled, should not have been allowed to travel by virtue she was in an exposed group," Frieden said at a news conference on Wednesday, the NYT reported.
Frieden, however, assured that since "she did not vomit, she was not bleeding" the chances of anyone on the flight catching the infection was low.
The nurse reportedly took a Frontier Airlines flight from Cleveland, Ohio, to Dallas/Fort Worth International Airport on Monday. The CDC now has asked all 132 passengers who took the flight to contact the federal health authorities.
The health worker from Texas Health Presbyterian Hospital, Amber Joy Vinson, 29, was part of the medical team that cared for Thomas Eric Duncan, the Ebola patient who was admitted to the hospital on 28 September, after getting infected in Liberia.
The report of Vinson being diagnosed with Ebola also has sparked panic in Akron, Cleveland, where the Texas health worker reportedly had visited family.
Here is an old pic of Amber Joy Vinson. Did you see her Oct. 10-13 in #akron, #cle #cleveland? http://t.co/CwumNNhXyJ pic.twitter.com/wJw34QEptt

— Amanda Harnocz (@AmandaHarnocz) October 15, 2014
Local reports claim that CDC is yet to quarantine the Akron home where Ebola patient Vinson stayed before being diagnosed with Ebola.
Reports also suggested that Vinson may have visited the Kent State University.
The reports of a second health worker being diagnosed with Ebola has also sparked widespread concern among the nurses at the Texas Health Presbyterian Hospital.
Deborah Burger of National Nurses United alleged that the nurses were forced to work in an unsafe environment. Burger said nurses treating the Liberian Ebola patient worked for days without proper protective gear and faced constantly changing protocols, reported Globe and Mail.