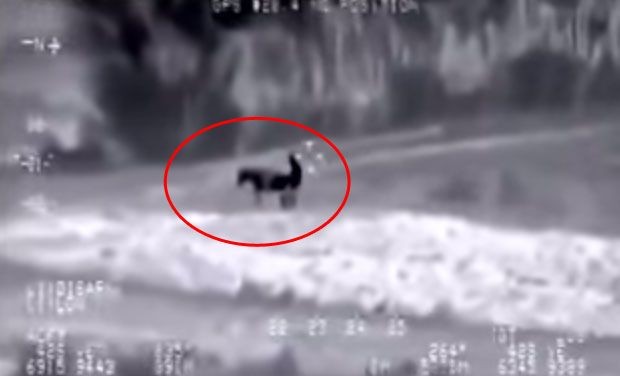 A video, claiming to have been taken by a US surveillance drone in Syria, showing an ISIS militant having intercourse with a donkey has been doing the rounds of late. However, it has now emerged that the surveillance video is a hoax.
The footage shows the heat signatures given off by the animal and a man, who appears to be having intercourse with it.
Though thousands believed the clip, it has now turned out that the entire video is an elaborate hoax. However, that has not stopped people from speculating.
A Deccan Chronicle report on the video noted: "One can get really lonely in the hills, which might compel them to try different things. Well, this man seems to have found company."
The report affirmed that the video was captured by the US-led coalition forces in Syria.
The clip, which was first released on Live Leaks, claimed that it was taken by a surveillance drone around Ar-Raqqah, a Syrian city located on the north bank of the Euphrates River, about 160kms east of Aleppo.
Watch the Surveillance Video
Several users, commenting on Liveleaks, agreed it was a mere 'joke' and should not be taken seriously.
The report was also posted on the Not the Onion page of Reddit, which is meant for "true stories that are... mind-blowingly ridiculous."
"I've seen this clip pop up so many times it's not even funny... I think our media just wants us to think that Arabs f*** donkeys," a Reddit user commented.
The ISIS is a Sunni militant group, which wants to establish an Islamic State governed by Sharia laws.
The militant group, known for its brutal ways which include beheading and public stoning, has thrown both Iraq and Syria into chaos. In several parts of Syria and Iraq, the group has set up its caliphate, and the people in the area are governed by the strictest of Islamic principles.
The US-led coalition forces recently declared war on the ISIS but the fanatic group still seems to be gaining grounds.