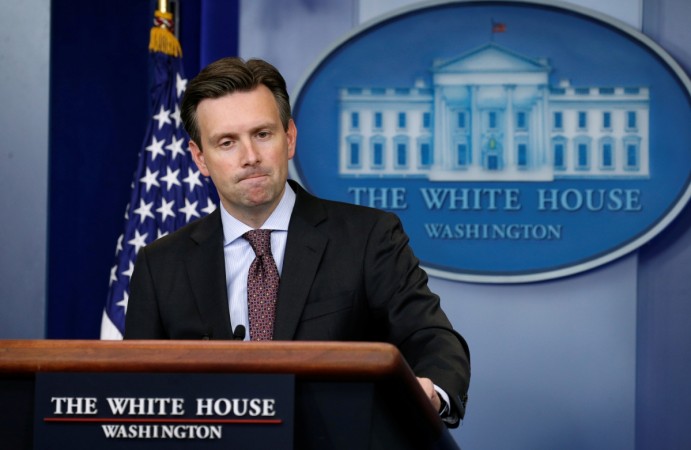 The White House called for de-escalation of tension between India and Pakistan after the Indian Army carried out surgical strikes on seven terror launch pads across the Line of Control killing two Pakistani soldiers and 38 terrorists.
"What I can tell you is that we have seen some reports from the region. Those reports include that Indian and Pakistani militaries have been in communication with one another and we encourage continued discussions between India and Pakistan to avoid escalation," White House Press Secretary Josh Earnest told reporters at a press conference, sending a clear and strong message to Pakistan that it needs to take action against UN-designated terrorist organisations.
Earnest added that the US National Security Advisor Susan Rice spoke to her Indian counterpart Ajit Doval on Thursday and asked him to combat and delegitimise" UN-designated terrorist entities, including Lashkar-e-Toiba (LeT) and Jaish-e-Mohammed (JeM).
"The United States fully expects that Pakistan will take effective action to combat and delegitimise UN-designated terrorist individuals and entities... We are prepared to deepen collaboration on UN terrorist designations," the press secretary said adding that the US is committed to its partnership with India and their joint efforts to fight against terrorism.
Earnest, however, added that the US values the partnership it shares with Pakistan on a range of issues including security.
Meanwhile, US Senator Mark Warner and John Cornyn, Co-Chairs of Senate India Caucus wrote to Prime Minister Narendra Modi condemning the Uri attacks that claimed the lives of 19 soldiers.
"We call on the Pakistan Government to cooperate fully and transparently in the probe and prosecute people that participated in this (Uri attack). (We) will continue to pressure Pakistan to end association with terror groups. Pakistan's possible involvement in this (Uri) attack underscores our broader concern about its use of terrorism as a pillar of its foreign policies towards Afghanistan and India," Co-Chairs of Senate India Caucus told PM Modi.