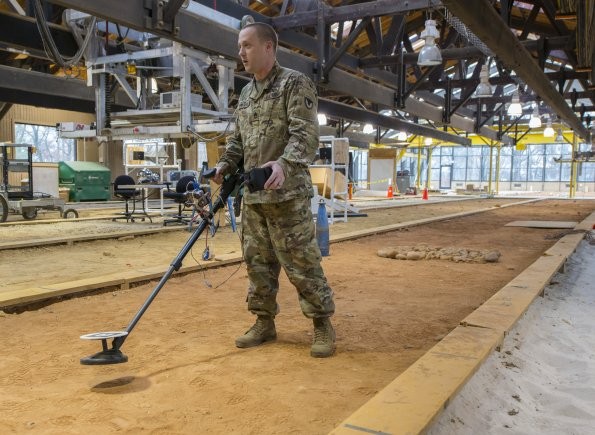 While Russia made headlines with the release of its new defense weapons, the US is working on a new technology to simplify the process of detecting hidden bombs.
The US Army is working on a new piece of technology that lets the mine detectors get visual images instead of audio signals. The new mine detector equipment will utilize real-time spatial location tracking to show sensor images of buried bombs on a heads-up display or a connected tablet.
"You can immediately see the shape of the object and roughly its size," Christopher Marshall, a scientist in the Countermine Division of the Night Vision and Electronic Sensors Directorate, said in a statement. "By providing this information to the Soldier, it makes it easier to operate and it means a faster response."
How does the new mine detector technology work?
The US Army uses real-time spatial location tracking paired with a range of sensors to produce images of buried bombs. The connected display mount uses colors to represent a potential threat in the area. The area highlighted in orange represents a metallic object nearby, hence advising caution while proceeding further.
Using the new mine detector technology, soldiers can safely clear routes with hidden mines or bombs, especially in war-prone zones. This is a major step ahead as the current metal detectors only provide audio notification.
The new technology is also capable of passing on information about which area a soldier has swept and what was found there in real time. This eliminates the need to mark the potentially dangerous areas with sticks or other indicators.
The technology can also identify how a soldier is operating the mine detector by tracking the swing rate. It can be used to train soldiers on how to use the mine detector for effective searches.
"If the Soldier is starting to swing erratically, that could be an early warning sign," Marshall added. "Then someone could come up to take the place of the Soldier."
A promising future
As promising as the new technology sounds, it is still in the works. But Marshall said the new technology could be integrated into mine detecting robots to eliminate the need for a soldier to be present at the scene. The robots could potentially capture and send the imagery back to the soldiers in a nearby vehicle to proceed with caution.
Watch the video below that shows the visual minesweeper in action.