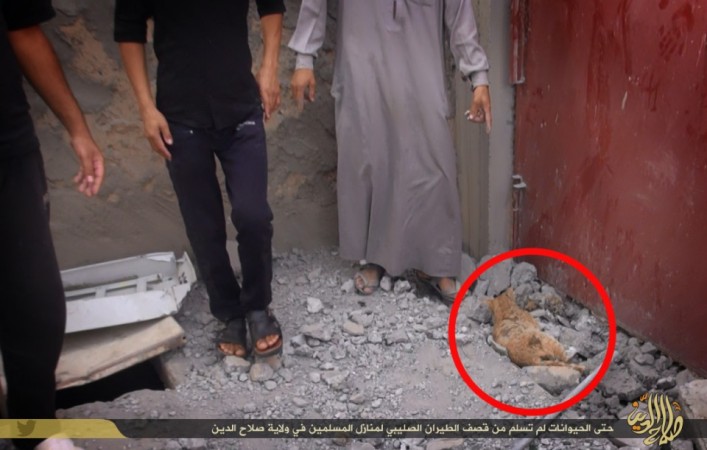 In a new set of propaganda images released by the Islamic State (ISIS) to highlight the destruction caused by US-led coalition airstrikes, one picture that the group has rather emphasised upon is that of a dead cat.
Amid all the pictures of destroyed houses and people rendered homeless, the fact that ISIS chose to highlight the image of a dead cat speaks volumes about the group. Some may it call it a case of 'misplaced priorities', others an ISIS propaganda, but maybe it's both.
The ISIS, which is listed as one of the most brutal terror groups, considers beheading, crucifixions and stoning an acceptable practice. However, these fighters are often seen nurturing a 'soft corner' for cats. ISIS even has several dedicated social media accounts that tweet only about cats.
The images of bombed homes and property released by the ISIS media cell is claimed to be from the ISIS-held Sunni areas of Salahuddin province. They released nine set of pictures, of which the only image that was prominently played up was that of the dead cat.
Interestingly, the photos do not show any loss to life of humans -- either civilian or fighters' -- caused by the bombings.
According to Inquisitr, ISIS cat photo memes is an attempt to use kittens as propaganda for the Islamic State.
"The goal of the account seems to be an attempt at normalising the life of the average ISIS terrorist member in order to somehow make them more appealing to a Western audience," while analysing an ISIS-affiliate Twitter account known as Islamic State of Cats with the handle @ISILCats.
A New York Time Times report recently noted that owing to the US-led coalition bombings, ISIS has moved its base to 'civilian homes', especially around the Salahuddin province.
"The airstrikes from the coalition have been very helpful, and now the ISIS fighters are confused and don't know where to go," Major General Hamad Namis al-Jibouri, the police chief of Salahuddin Province in Iraq, where a combination of government security forces and Shiite militias have been fighting the jihadists near the town of Baiji, told NYT.
Recent reports have also found that ISIS has suffered major losses in Salahuddin as several of its fighters were killed in airstrikes that were undertaken in coordination with Iraqi ground forces.