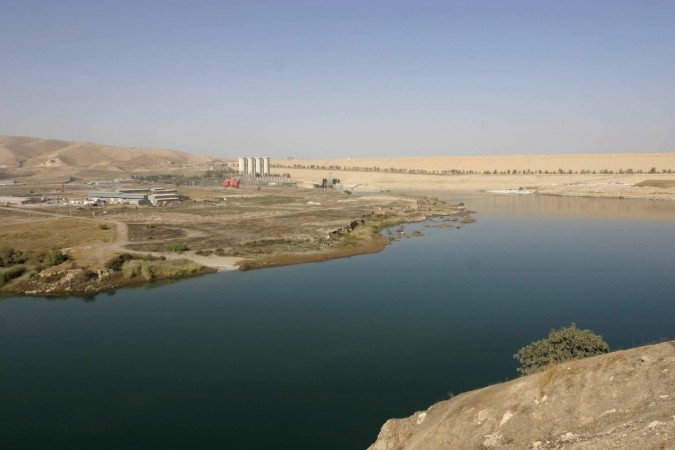 The United States on Saturday pounded Islamic State hideouts around Mosul dam in Iraq, after reports emerged on the massacre of 700 members of a minority tribe in eastern Syria.
Confirming the attack the Central Command stated that F/A-18 fighter jets and drones were deployed to conduct airstrikes, which were aimed at supporting humanitarian efforts.
"The nine air strikes conducted thus far destroyed or damaged four armored personnel carriers, seven armed vehicles, two Humvees and an armored vehicle," read a Central Command statement.
The Mosul dam, which is Iraq's biggest, was taken over by the ISIS militants earlier last month, and since then the group has continued its onslaught in the country, pushing as far as till the borders of Kurdistan.
The Islamic State, used to be known as the Islamic State of Iraq and Syria (ISIS), has announced the establishment of its caliphate in both Iraq and Syria, where it controls considerable portions of land.
The US airstrikes on Mosul came on the day reports claimed that the militant group executed 700 members of a Syrian minority tribe.
The Syrian Observatory for Human Rights, a UK-based group, stated it had learned through reliable sources that many from the al-Sheitaat tribe in Deir al-Zor province were beheaded by the militants to force them to accept the Islamic State caliphate.
An activist in Deir al-Zor, who spoke on condition of anonymity, told Reuters that 300 men were executed in one day in the town of Ghraneij - one of the three main towns of the al-Sheitaat tribal heartland, when Islamic State stormed the area earlier this week.
Another activist from Deir al-Zor said the residents of al-Sheitaat towns have been given three days to leave.
"Those who were executed during the storming of the al-Sheitaat area are around 300. The rest were killed in the course of the battles," he told Reuters.
The ISIS militants in Iraq have been blamed for targeting Christians and other minority religious sects, such as Yazidis.