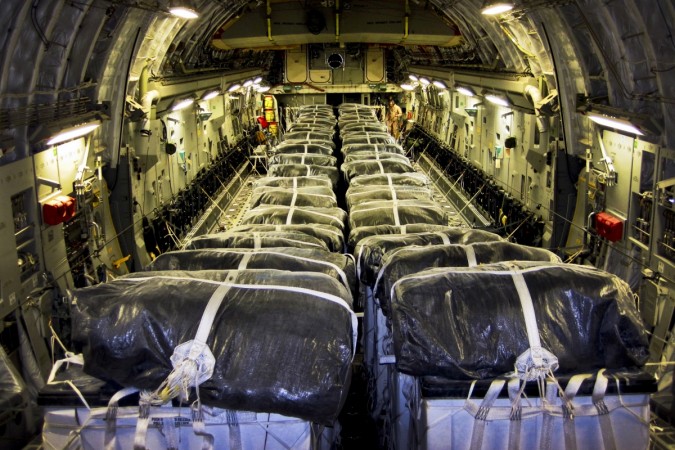 The United States has dropped food for the second time for thousands of Iraqis hiding in mountains from the jihadist fighters, according to Pentagon.
This comes after US warplanes continued bombing the Islamist fighters marching on Iraq's Kurdish capital on Friday, after President Barack Obama authorized the US force to conduct airstrikes to prevent 'genocide'.
Having beheaded and crucified captives in their deadly ambition to eradicate unbelievers, the Islamic State fighters have advanced to within a half hour's drive of Arbil, the capital of Iraq's Kurdish region.
As the fresh gains made by the group has added to the tension in the region, the US is intensifying its pressure on Iraqi leaders to form a unity government capable of dealing with the jihadists.
The Sunni Muslim group, formerly known as ISIS, has launched a bloody campaign over the past months taking control of major swathes of northern Iraq and Syria, and has also seized Iraq's largest dam, raising fears that the militants could flood cities and cut off vital water and electricity supplies.
In a statement, the Pentagon said two F/A-18 aircraft from an aircraft carrier in the Gulf had dropped laser-guided 500-pound bombs on the militants' artillery. Other air strikes had targeted mortar position and an Islamic State convoy.
The Pentagon also said the latest air-drop involved one C-17 and two C-130 cargo planes that together dropped a total of 72 bundles of supplies.
The cargo aircraft were escorted by two F/A 18s from the aircraft carrier USS George HW Bush and the aid was dropped into the mountains around the town of Sinjar, where some 50,000 members of the Yazidi religious sect fled the advancing militants about a week ago, the Pentagon statement said.
This comes after the notorious jihadists also seized Qaraqosh, Iraq's Christian town this week, causing many more civilians to flee.
Obama authorised the first US air strikes on Iraq ever since the administration pulled all troops out of the country in 2011, triggering a round of debate in the United States if that was the right move.
Obama argued that action was needed to halt the Islamist advance, protect Americans and safeguard hundreds of thousands of Christians and members of other religious minorities, who are fleeing the militants' atrocities.