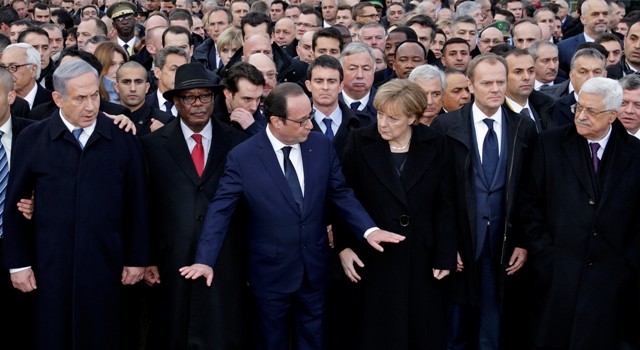 The US, facing a barrage of criticism for President Barack Obama's decision not to attend Sunday's anti-terrorism unity march in Paris, admitted Monday that it should have sent a higher profile official.
"It is fair to say that we should have sent someone with a higher profile to be there," White House spokesman Josh Earnest said, stressing the US administration's support for France, one of its oldest allies, according to a Xinhua report.
Security concerns played a role in Obama's absence in the march, as security requirements for such events where a president appeared were "onerous and significant", Earnest said.
"Had the circumstance been different, I think the president himself would have liked to have had the opportunity to be there," Earnest said.
More than a million people took to the streets of Paris Sunday to pay tribute to the 17 victims of last week's terrorist attacks in France.
More than 40 world leaders, including French President Francois Hollande, German Chancellor Angela Merkel, Israeli Prime Minister Benjamin Netanyahu, Palestinian President Mahmoud Abbas and British Prime Minister David Cameron attended the rally. The only senior US official in attendance was Jane Hartley, the US ambassador to France.
Several prominent Republicans criticised the Obama administration for not sending any higher profile figure to the rally, calling such absence a mistake that should have been averted.
US Secretary of State John Kerry said Monday that he did not attend the rally because of a prior planned trip to India. However, he said that he would travel to Paris later this week to discuss ways to counter extremist violence.