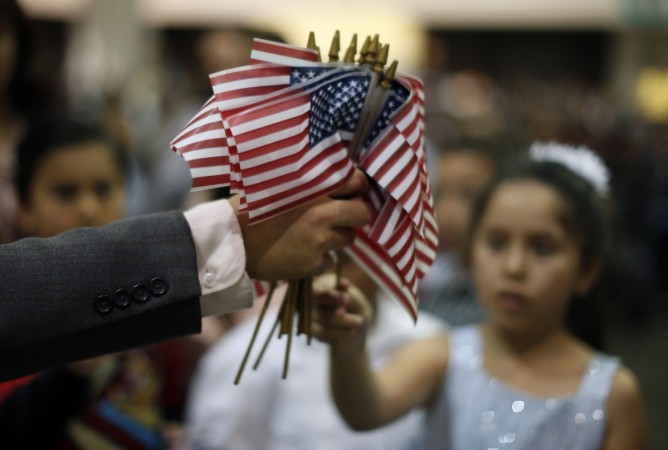 Applications for H1-B visas for the fiscal year 2017 will begin April 1, 2016, the U.S. Citizenship and Immigration Services (USCIS) said Wednesday. H1-B visas are used to employ highly-skilled individuals from across the world, especially in the fields of science, engineering and computer programming, in the U.S.
As many as 65,000 H1-B visa applications will be entertained. The first 20,000 with a U.S. Master's or higher degree will be exempt from the 65,000 limit. The immigration office expects to receive more than 65,000 applications in the first five business days of opening up the application process.
A computer-generated lottery system will be used to select recipients of the visa if more than 65,000 applications are received. The rest of the people and those who apply after the limit of 65,000 will be rejected, USCIS said.
The U.S. immigration office will notify when the 65,000 cap for H1-B visas is reached.
In a bid to secure their position as a candidate in the U.S. presidential elections, many politicians like Marco Rubio, who quit the race recently, and Donald Trump expressed their reservations over H1-B visa being given to non-immigrants.
The visa, which allows skilled workers to be employed temporarily in the U.S., was termed "unfair" to American workers by the two presidential hopefuls. Trump's recent remarks about scrapping the visa elicited concern from India's Chief Economic Adviser Arvind Subramanian, as India is a big exporter of services.
The U.S. Senate is considering legislation that would prevent American workers being replaced by those who hold H1-B visas, the Washington Post reported.
Recently, the price for certain categories of H1-B visas was hiked by $4,000, whereas for certain categories of L1A and L1B visas the price was hiked by $4,500. The change will be effective till Sep. 20, 2025, the USCIS was quoted as saying by the Press Trust of India.