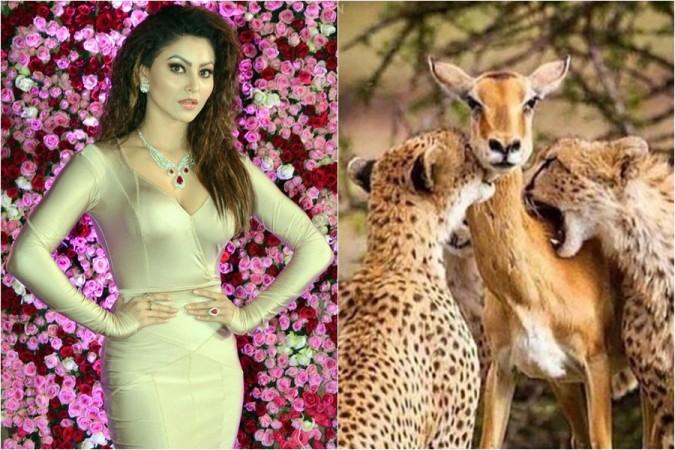 Urvashi Rautela has fallen for the fake story behind the viral Cheetah and Impala photo. And not surprisingly, the Hate Story 4 hottie got trolled for sharing the two-year-old fake news on Instagram.
Photographer Alison Buttigieg had cleared the air about the fake story that had been accompanied with the viral photo which she clicked some 2 years ago but people are still falling for it including Bollywood actors.
The picture is still being shared with a story that suggests how the impala sacrificed itself to save its children and how the photographer went into depression after clicking the series.
The real story behind the picture was that the Impala was so terrified that it froze in fear when the Cheetahs attacked her and not sacrificing herself for her children.
Last year, Shahid Kapoor was trolled for sharing the picture and this year not just Arjun Rampal but now Urvashi Rautela too is being trolled for sharing wrong information on social media.
She shared the picture with a caption that reads, "Always love your Mother because you will never get Another" with #mother and #love hashtags.
Her fans started trolling the Great Grand Masti actress making her familiar with the real story behind it. Check out the reactions.
"Now certainly the photographer will go into depression as urvashi too had posted this fake story.....anyways the msg is still very correct"always love ur mother," a fan trolled Urvashi while another fan commented, "Fucking idiot spreading fake news."
"Fake haa yee. kuch bhe naa post kiya karo..aap acting karte waqat he acche lagte hoo..(This is fake. Don't post anything that comes to your mind. You look good only when you are acting on screen)."
"Easy to get manipulated by the anything you see on the internet. This story isn't actually true," another fan wrote.
"Message is commendable but Mam M sorry 2 say that u have been trapped in fake news. The truth of the pic is not like what u have described. Pls do some homework before presenting 2 others," a fan tried to fact-check Urvashi.