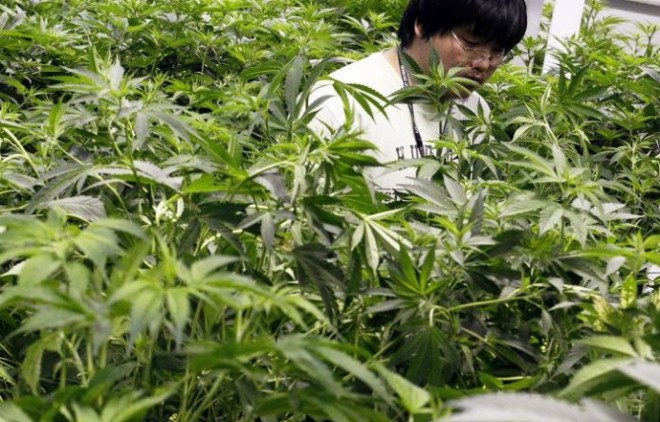 Uruguay on Tuesday became the first country in the world where growing, selling and smoking of marijuana has been legalised, a controversial social experiment that contravenes the International Drug Treaties.
The government-sponsored bill approved by 16-13 votes in the Senate for the legalisation of cultivation, distribution and consumption of marijuana comes even after UN narcotics body had warned that the bill would be against international law.
The International Narcotics Control Broad (INCB) had said in August that it was concerned about Uruguayan approval of legalising marijuana and warned the South American country that the law would "be in complete contravention to the provisions of the international drug treaties to which Uruguay is party".
The INCB is an independent body of experts working under the United Nations to monitor countries' compliance with international drug treaties.
When the bill was passed in Uruguay's House of Representatives in July 2013, the INCB had said in a statement that such a law would be in "complete contravention" of the Single Convention on Narcotic Drugs of 1961 which prohibits the sale of cannabis for purposes other than for medical use.
"It might have serious consequences for the health and welfare of the population and for the prevention of cannabis abuse among the youth", the board had said.
Given that the senate has approved the legalisation of marijuana in a land-mark decision on Tuesday, it is uncertain what actions the INCB will take against the breach of International Treaties.
Roberto Conde, a senator, said that considering the "war" against drugs had failed, the bill was an unavoidable consequence to reality.
"We have the duty as the state to give a specific answer to an open territory, small and non-producing," Conde said, adding that drugs are smuggled into the neighbouring countries through Uruguay's borders.
Growing Criticisms
Many senators were against the bill which was passed by 16 votes against 13 on Tuesday. Alfredo Solari, the opposition member, said the country must stop "experimenting" on its people.
"This project envisages a social engineering experiment and respects one of the ethic safeguards of experimentation on human beings, and these are important in the case of a substance like marijuana, which cause damage to human beings," Senator Solari told Reuters.
According to a recent opinion poll by Equipos Consultores, 58 percent of Uruguayans are not happy about legalising pot.
According to the newly passed bill, Cannabis consumers will be able to buy a maximum of 40 grams each, the only condition being that the buyer must be a Uruguayan resident and aged 18 and above. Their purchases will be registered and monitored on a government database that will control their monthly purchases.
The law which will be implemented in 120 days also allows residents of the country to grow six marijuana plants in their homes a year (or 480 grams).