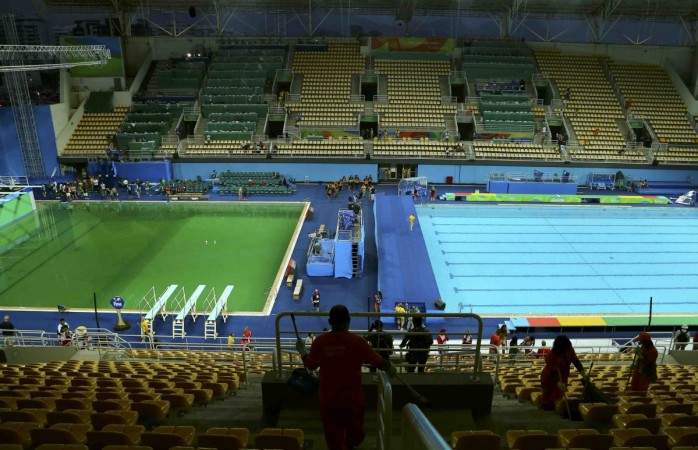 In an absolutely bizarre incident at the Maria Lenk Aquatics Centre in Rio de Janeiro on Tuesday, the Olympic pool turned green during the women's 10-meter synchronised diving finals, making athletes go completely puzzled. It is a common sight to see divers and swimmers compete in the normally azure pool water, but in a swampy green pool water during the Olympics - well, not really.
Call it a PR disaster for the Rio 2016 Olympics as a whole or whatever you want to, but the reason as to what made such an incident or accident take place, is still not out. Social media have gone abuzz suggesting it was probably urine or maybe an abundance of algae that made it turn green.
Some have even suggested that 'Shrek' - the famous animated green monster from the 'Shrek' franchisee, who loves the solitude in his swamp, could have taken an overnight dip in the pool.
Good news is that the presence of urine has been ruled out and there were no health hazards for the athletes. "The water quality at the Maria Lenk Aquatics Centre was tested and there were no risks for the athletes. We are investigating the cause [sic]," tweeted the Rio 2016 organisers.
The exact cause may still not be out as the Rio organisers keep scratching their heads, it is being highly believed that an abundance of phosphates in the water or the presence of copper ions and an unbalanced pH level, could have added to making the pool water green.
"It's a very curious one, because the main reason a pool normally goes green is lack of sanitation," said Brett Blair, a national manager of Jim's Pool Care -- a pool servicing franchise based in Australia -- told the Guardian. "it was not a good PR thing [for the Olympic Games]. The scary part is how at a world event, a pool could go green. It's unbelievable."
Interestingly, the divers didn't have any problem with the pool during the diving event, where China's Chen Ruolin and Liu Huixia won the gold, while Cheong Jun Hoong and Pamg Pandelela Rinong of Malaysia took silver. Meaghan Benfeito and Roseline Filion of Canada grabbed the bronze.
"When we were practicing to get used to this venue, [the water] was always sky blue. But we're always mentally prepared for unexpected situations," Business Insider quoted Huixia, who clinched the gold. Bronze medallist Benefito too shared the sentiments: "It's not the same colour as the sky, so that was really on our side today," she admitted.
Here are some pictures from the Maria Lenk Aquatics Centre: