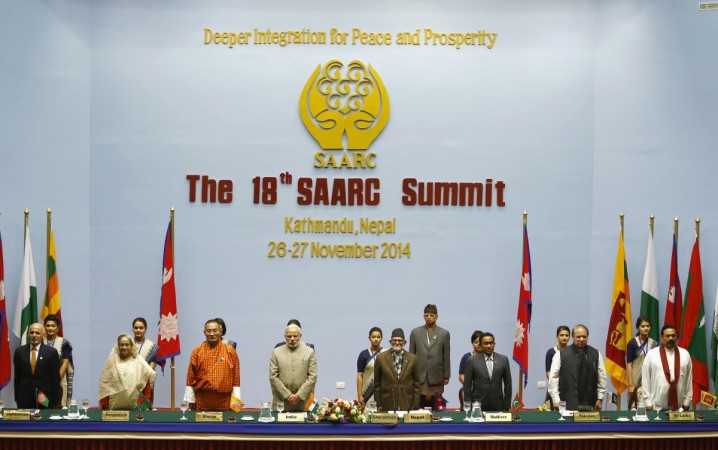 The deteriorating relations between India and Pakistan after the Uri terror attack and support for India's hardening stance from Afghanistan and Bangladesh could well result in the 19th Saarc summit being called off.
The South Asian Association for Regional Cooperation (SAARC) summit is scheduled to be held in Pakistan's capital Islamabad in November this year.
While Afghanistan made a veiled reference to Pakistan for its support to terror in South Asia and called for a collective effort to isolate it, Bangladesh is yet to make up its mind on the issue of boycott.
In an interview to a news channel, the Afghan envoy to India indirectly referred to Pakistan's role in fomenting terror in the region and the need for a collective effort to tackle the problem.
"We have to make sure that we bring the maximum number of countries and I am sure most South Asian countries are in line with what we think. Therefore, the effort should be comprehensive and we should single out a country that spoils our unity and regional peace," Dr Shaida Mohammad Abdali said.
He added that India's western neighbour can no longer exist behind the veil of non-state actors to evade accountability.
"It is no more an issue of non-state actors that we have been hearing about. Now we have ample proof of state-sponsored terrorism," Abadali said.
India, Nepal, Afghanistan, Bangladesh, Bhutan, Maldives, Pakistan, and Sri Lanka are member-countries of Saarc.
Bangladesh non-committal
Though media reports had earlier said that Bangladesh could join India and Afghanistan to boycott the upcoming Saarc summit in Islamabad, the country's high commissioner to India said that no such decision has been taken till now.
"As of now, the Saarc Summit is scheduled to be held sometime in November and no final decision has been taken by our Prime Minister regarding her participation, but as soon as the decision is taken, I certainly can tell you," Syed Muazzem Ali told ANI.
He said that a decision would be taken on it when the prime ministers of the two countries meet at another regional event in Goa next month.
"Perhaps, at the Goa event, our two Prime Ministers can also discuss regarding their attendance at the forthcoming Saarc Summit in Islamabad," Ali said.
India will be hosting the Bay of Bengal Initiative for Multi-Sectoral Technical and Economic Cooperation (BIMSTEC) Summit on Oct. 16 in Goa.
Pakistan Prime Minister Nawaz Sharif is scheduled to speak at the UN General Assembly on Wednesday (Sept. 21) and it is believed that he will speak about the "atrocities" in Srinagar, Kashmir.