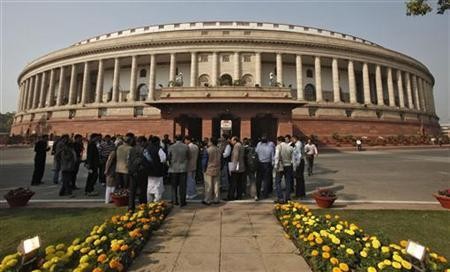 A group of nearly 100 students marched towards the entry gates of the Indian Parliament on Monday, demanding a change in policies regarding civil services examination.
The students, holding slogans on sheets of paper and placards, were demonstrating in demand of a change in the UPSC exam procedure. They pushed the central government to raise the number of attempts allowed per person for the civil services exam.
As not more than four people are allowed around the gates, from where MPs enter the Parliament premises, a security alarm was triggered by the guards, reported NDTV.
While armed officials of the Central Reserve Police Force (CRPF) took position, the Delhi Police tried to disband the gathering.
When the UPSC aspirants remained adamant about the protest, authorities started detaining a few.
One protestor tried to escape from the grasp of the police and jumped into the fountain at Vijay Chowk, near the Parliament. He was eventually caught by the authorities. The protest lasted for only a couple of minutes.
Last week, the students union from Jawaharlal Nehru University (JNU) staged a long march from Mandi House to Parliament Street, in protest of the existing policies for the UPSC exams. Students from various colleges attended the march and demanded the restoration of foreign languages taught in Indian universities, in the list of subjects of Civil Services Exam.
They also demanded the number of attempts for the exam to be raised to seven per person, reported the new agency.