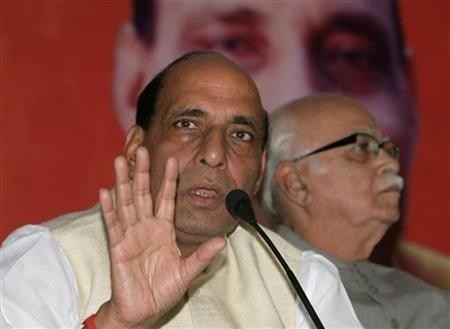 Following violent protests by aspirants of Civil Services, Home Minister Rajnath Singh has assured that the issue will be resolved in a week's time.
Singh, who was directed by Prime Minister Narendra Modi to resolve the issue, had chaired a meeting with Finance Minister Arun Jaitley and Minister of State for Personnel Jitendra Singh on Sunday.
"The UPSC issue will be resolved within a week. Discussions are going on," Home Minister Singh told reports on Monday, Press Trust of India reported.
The aspirants have been protesting over the last few days to scrap Paper II of the Civil Services Aptitude Test (CSAT), which includes 8-9 questions relating to English comprehension. They claim that the CSAT will give more advantage to English-speaking applicants over the Hindi-speaking ones and those who write in regional languages.
The aspirants resorted to violence to have the exams postponed, with admit cards already issued.
The aspirants also met with Congress Vice-President Rahul Gandhi on Monday over the issue. A 21-member delegation of aspirants - led by NSUI National President Rohit Sharma, General Secretary Mohit Sharma and Delhi State President of NSUI Vikas Chhikara - discussed the issue for over an hour at Gandhi's residence.
"Congress is always with the students. No injustice will be allowed to be done to students coming from poor background," PTI quoted Rahul.
A three-member committee has been appointed by the government to look into the demands of the aspirants to change the pattern of the Civil Services Aptitude Test (CSAT). It is likely to suggest changes in the syllabus and call for the postponement of the preliminary exam scheduled for 24 August.
The UPSC exam is held in three stages - preliminary, main and interview - through which candidates are chosen for the Indian Administrative Service, Indian Foreign Service, Indian Police Service and other all-India services.