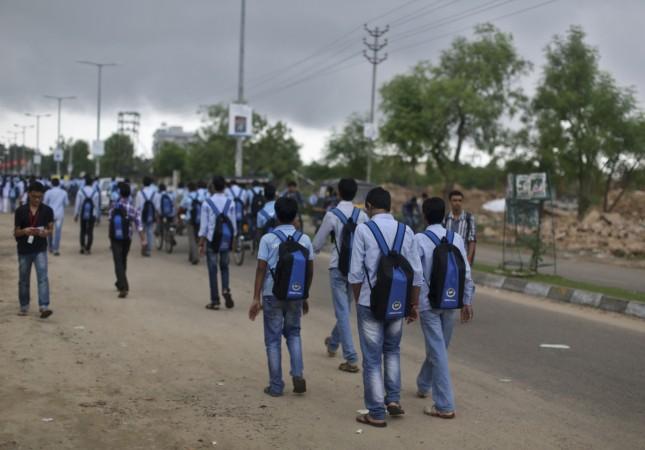 The Lok Sabha on Wednesday witnessed a furore over the proposed move to keep schools open on Christmas with several opposition parties accusing the government of "misleading" the House and implementing the Sangh Parivar agenda, evoking a sharp attack on the Gandhi family from treasury benches.
Expressing dissatisfaction over the government's reply that the holiday for Christmas will not be disturbed as it observes 'Good Governance Day' to mark the birthday of former Prime Minister Atal Bihari Vajpayee, which is also on December 25, the Congress, TMC, the Left and NCP walked out of the House.
The issue, which has been causing a stir in Parliament since Monday, was raised by KC Venugopal (Congress) who read out official "circulars" asking schools and universities to observe the day by organising several activities, reports The Economic Times.
The circulars also sought photographs and video recordings of these events as a proof of their compliance, said Venugopal. "How can you send photographs and videos without holding events in schools," he asked opposing the government's claim that these were online activities.
The government's reply is "incorrect" and "misleading", he said as several opposition members raised slogans.
In his reply, Parliamentary Affairs Minister M Venkaiah Naidu instead charged the opposition with "misleading" the nation and said that it was a very sensitive issue.
As Naidu insisted that the Christmas holiday would not be disrupted and quoted a circular to this effect, some opposition members accused the government of fulfilling the Sangh Parivar agenda.
The minister then had a go at the Gandhi family, saying "Family ka saath, desh ka vinash, Congress ka vinash (With family, destruction of country, destruction of Congress)".
This was emphatically opposed by Congress members.
"They attacked my family, I have attacked theirs. If they withdraw their words, I will mine," Naidu said.
He said the government was following 'Good Governance Day' as Vajpayee was born on Christmas and there was no question of "disrespect" to the festival.