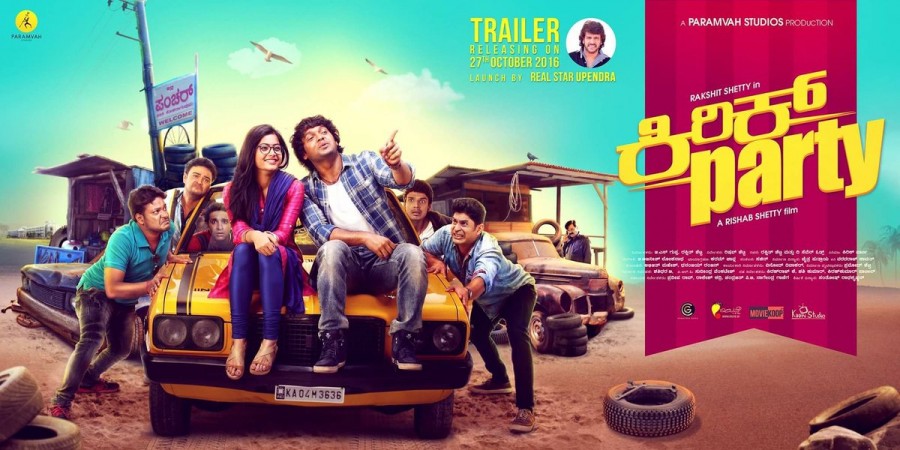 The trailer of Rakshit Shetty's upcoming movie Kirik Party was launched by Real Star Upendra, who is gearing up for the release of his much-awaited Mukunda Murari, on Thursday, October 27. The video clip has opened to positive talks and has gone viral among Kannada viewers.
The movie has references to the influence of Upendra on the present-day youth, and Rakshit himself is a fan of the Sandalwood superstar. Hence the makers invited the Real Star to unveil the trailer. According to Rakshit Shetty, the trailer is an ode to Uppi.
The three-minute trailer of Kirik Party introduces the lead characters of the movie. The video deals with the lives of some engineering students and reveals some special moments enjoyed by them. The incidents are narrated with humour.
The trailer reminds viewers of the hit movies in other languages, like Happy Days, RHTDM, Premam and Bangalore Days. Nonetheless, the video has managed to receive good words from the audience. Here are some of the comments posted on the clip:
Arun N Bharadwaj: @rakshitshetty Bro astonished by the #KirikParty trailer. Desperately waiting for the Album & as well as the movie. All the best
ImVasishtaa: @rakshitshetty & d 7odds.. #KirikParty trailer luks brilliant.. waitin to vitness d recreation of funfilled clg dys..
P.S: naanirbekittu
Shirazz: Namma @rakshitshetty shud be a Creative Star rather than Simple Star.Awesome teaser #KirikParty, waiting for the movie. Nostalgia guaranteed
Mystic Heart: No matter what , every movie made will remind us of some other movie/Scenes.
#KirikParty reminded me of RHTDM, Premam and jolly days.
Vks: People are outraging after watching #KirikParty trailer as it has a smoking scene in the end with Rajkumar's song in background. Heights !!
Pragath Bheemaiah: #KirikParty trailer ardha noD'de... Felt its Premam + Bangalore Days. I mean aa thara shades ide...
Rakshit Shetty, who lost weight for the role in Kirik Party, looks young and energetic. The film has been produced by him under the banner of Paramvah Studios. He has paired up with newcomers MM Rashmika and Samyukta Hegde.
Achyuth Kumar, Aravind Iyer, Dhananjay Ranjan, Chandan Achar, Ashwin Rao Pallaki, Pramod Shetty, Shankar Murthy, Giri Krishna, Rajath Kumar, Raghu Bhat, Hanumanthe Gowda, Salman Ahamed, Raghu Pandeshwar, Arohitha Gowda and Aishwarya are some of the other actors in the cast.
Kirik Party reunites Rakshit Shetty and Rishab Shetty, who had earlier collaborated in Ricky. It features B Ajaneesh Lokanath's music, Karm Chawla's cinematography and Sachin's editing.