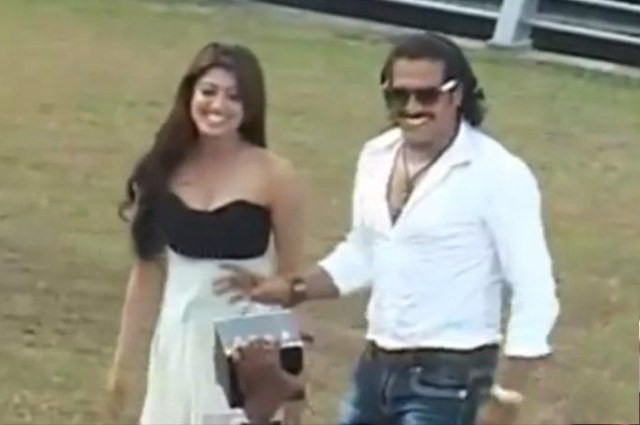 Upendra and Pranitha Subbaiah, who are playing lead roles in "Brahma," have wrapped up the shooting for the R Chandru-directed film. The lead pair recently shot a special song "Tingu Tingu Tingu Somethingu Hyapaningu Edeyolage ringing...." which will feature them sizzling in LED light suits.
The track is said to be a peppy number, for which Kaviraj has penned the lyrics, while popular musician Gurukiran composed the tunes. K Manju, who is producing this film with a whopping budget, has reportedly shelled out a hefty sum on the specially-erected set for it in Mumbai. The producer gushes that it is a very catchy song and is sure to rock young filmgoers.
Upendra and Pranitha have shot this dance number under the direction of Bollywood choreographer Chinni Prakash and cameraman Shekar Chandra has handled the cinematography for it. According to the film unit, this song, which has been shot on a lavish set, will be one of the main highlights of the film.
"We wanted to shoot the song with LED lights and Bangalore doesn't have the technology to support our attempt. So, we decided to shoot the song in Mumbai, and even roped in Mumbai-based technicians for the same. Uppi wore an LED costume. Incidentally, it took us about a month to design Upendra's LED costume," The Times of India quoted Chandru as saying.
Brahma is being made simultaneously in Kannada and Telugu and R Chandru has written the story, screenplay, and dialogue of the film.
Set in two different periods, the movie begins in the 16th century and ends with a story of the present generation. Upendra's different avatars have created a lot of curiosity among film goers.
The formal shooting of the film began on 15 May 2013 and the film unit wrapped up the filming on November 30. On the last day, the production team shot a few fight scenes, including a bomb blast and car toppling. It is reported that a stuntman suffered some minor injuries during the shooting.
The film also features Rangayana Raghu, Sadhu Kokila, Sayyaji Shindhe, Nazar, Rahul Dev, Sonu Sood, Subash Shetty, Dr Girish Karnad, Kat Raju, Bullet Prakash, John Kokkin, Mangalore Suresh, Lakshman, Padmaja Rao and Suchindra Prasad as supporting cast.