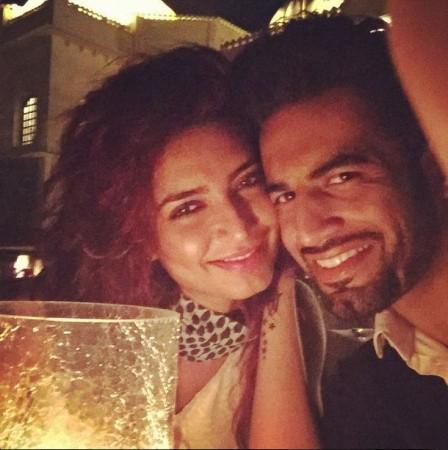 Upen Patel and Karishma Tanna's love blossomed in the house of the crazies. The two were unsure of their relationship while in the "Bigg Boss 8" house, but from the extremely adorable string of pictures the couple has been posting on social media, it's quite clear that they are thinking of taking things ahead.
The whole "meet the parents" ritual was shot to another level when the "Grand Masti" actress, with her mother in tow, flew to London to meet the Brit import's grandparents. Word has it, since the two are familiar with each other's family members now, the marriage might happen soon.
However, since none of the concerned parties have made any official announcement, the purpose of their trip to the UK can be counted as a speculation.
Interestingly, a few days ago there were reports of "Nach Baliye 7" makers approaching the couple. And this piece of intel was followed by rumours that the two were on fast-pace mode to validate their relationship in order to participate in the show.
Made-up or not, while it's best known to them, this isn't the first time that the lovebirds were accused of faking their equation.
Ever since they expressed their fondness for one another on national television ("BB8"), some of the viewers opined on social media that they were creating a love angle to survive the competition. But this was flatly denied by Karishma, who said her feelings for the "36 China Town" actor were genuine.
"It's interesting that people have so much time to take interest in peoples personal lives. But the nickname fans have given Upen and me, (Upma) is cute. Upen is a genuine guy and I definitely wish to take the relationship ahead. Whatever you saw on TV, the smiles, the love was all true. Yes it was awkward when our kisses were aired but theres nothing personal on a reality show," Deccan Chronicle quoted her as saying.