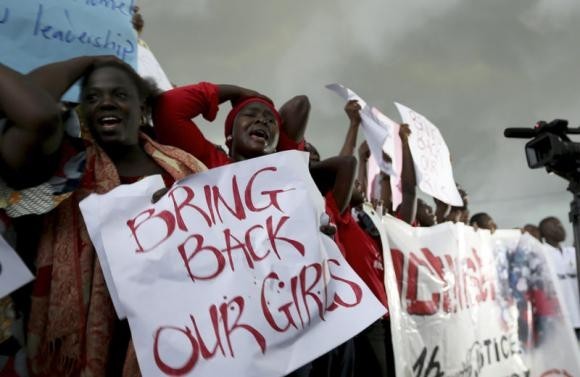 Even as concerned people world-over are closely monitoring and praying for the release of over 200 school girls abducted by an Islamic militant group in Nigeria, a local Nigerian report has stated that of the kidnapped girls, two have died of snake bite, while 20 girls have reportedly fallen sick.
A local Nigerian news source Daily Post quoting Associated Press revealed that of the abducted school girls, two have died of snake bike, and the health condition of 20 is said to be deteriorating.The terror group - Boko Haram (translates as 'Western education is a sin') kidnapped the girls from their school in Chibok on 14 April. Nigerian military forces are still unable to track down the location of the Islamic militants, even after three weeks,it is claimed.
The Boko Haram militants are but said to be hiding the abducted girls aged between 16 to 18 in their stronghold in Sambisa forest known for its thick vegetation and poisonous reptiles. These parts of the forest lands still are off limits to the Nigerian army and are said to be a fortress of the Boko Haram militants.
Further on Monday, the international community was jostled, when Boko Haram, the Islamic terror group released a video taking responsibility for the abduction and relayed the message that the young girls will be sold into slavery.
A man claiming to be Boko Haram leader, Abubakar Shekau said in a video, "I abducted your girls. I will sell them in the market, by Allah,"reported CNN.
"There is a market for selling humans. Allah says I should sell. He commands me to sell. I will sell women. I sell women," Shekau stated in local Hausa language.
With the Nigerian government failing to bring any relief to the matter, activists and concerned public have taken to Twitter to raise awareness over the incident. With globally trending hashtag #BringBackOurGirls, the incident has gained much attention. International community from London to Lagos are pressurizing their respective governments to take stock of the matter.