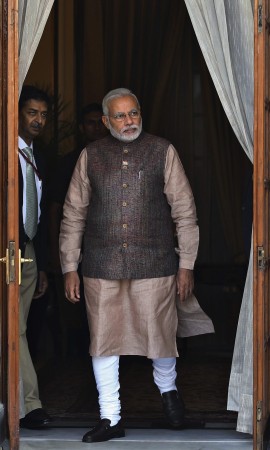 The NDA-led government is sweeping away all doubts before handing over responsibilities, by holding away personal secretaries' appointments and by replacing governors - both appointed during the UPA-II regime.
The Prime Minister's Office is said to have pulled back the appointments of private secretaries to ministers including Rajnath Singh. The office is unlikely to re-appoint UPA-II regime secretaries or let them stay; the decision will be taken only after scrutinizing their records, according to NDTV.
Former IPS officer from UP Alok Singh, who was earlier appointed at the office of former External Affairs minister Salman Khurshid, was the personal choice of Rajnath Singh as his secretary.
Four Cabinet ministers - Smriti Irani, Venkaiah Naidu, Najma Heptulla and Ravi Shankar Prasad - and Union Minister of State for Home Affairs of India Kiren Rijiju might lose their personal secretaries if the Centre removes those appointed during Congress rule.
Jammu and Kashmir Chief Minister today raised objections at PMO's decision to put the appointment of private secretaries on hold, and said that the office needs to trust their ministers in the matter.
"A strong PMO is one thing but if a minister can't be trusted to choose a private secretary how can he/she be trusted to run a ministry?" NDTV quoted Omar Abdullah.
According to reports, the Centre has decided to reconsider the appointment of personal secretaries to Union ministers, after receiving a circular from the Department of Personnel Training (DoPT) on 26 May. The circular stated that the approval from the Appointments Committee of Cabinet is necessary before appointing ministers' personal staff, including private secretaries and officers on special duty.
"All ministries and departments are, therefore, advised to ensure strict compliance with the laid down procedure for all appointments, including of officer on special duty, in the personal staff of the ministers," the circular read.
While the committee is to scrutinize the appointees, the Narendra Modi-government is thinking of replacing the governors of seven states, all brought to power during the UPA-II regime, according to NDTV.
In response to the call to file in their resignations, governors BL Joshi of UP, JB Patnaik of Assam and HR Bhardwaj of Karnataka resigned from their posts on Tuesday.
While MK Narayanan of West Bengal is set to send his resignation by tomorrow, former Chief Minister of Delhi Sheila Dikshit - who was appointed Kerala's governor after Arvind Kejriwal took over the CM's post in December 2013 - has allegedly denied stepping down.
The resignations came at the backdrop of the Home Ministry seeking resignations from the governors of seven states. While three of them have already resigned, resignations from the governors Margaret Alva of Rajasthan, Shivraj Patil of Punjab, Ram Naresh Yadav of Madhya Pradesh, Dr. Kamala of Gujarat, Devanand Konwar of Tripura, K Sankaranarayanan of Maharashtra are still awaited.
"The governors should resign themselves. They were appointed by Sonia Gandhi and not on merit," NDTV quoted BJP leader Subramanian Swamy.
Congress has alleged the action taken by the NDA-led government to be an abuse of power. "Why are they worried about changing governors?" NDTV quoted PC Chacko, questioning their decision.
The UPA-II government had also taken the same decision during its reign in 2004 and removed several governors appointed by the previous BJP government. After BJP MP BP Singhal moved to Supreme Court challenging the removal, the court came out with a decision in its May 2010 order, stating that the governors who are not the employees of Union government can only be removed on the grounds of committing any misconduct or irregularities of any kind.