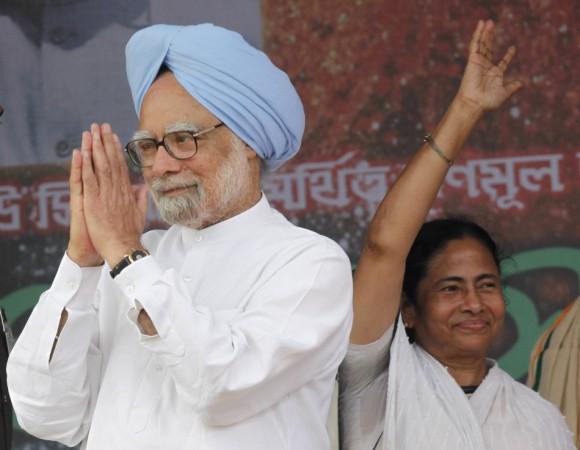 The fallout of the Trinamool Congress (TMC) from the UPA-II government has put the country at the peril of going for an early poll, as the Congress-led government has differences with the political parties that can bail it out from the present crisis.
It is apparent that the unhealthy marriage between the TMC and the United Progressive Alliance (UPA) will end this time as sources from the Congress said after the party's Core Committee meeting that the government was not willing to rollback on foreign direct investment (FDI) in retail sector, diesel price hike and restriction on the supply of LPG cylinders.
TMC chief Mamata Banerjee has set a 72-hour deadline for the government to withdraw a string of economic policies rolled out by the Centre. She has made it clear that her party MPs will give their resignation letter Friday if the government doesn't fulfill their demands.
The TMC, which has 25 MPs in Parliament, had gone against many policy decisions of the Congress in the past too - including FDI in retails, National Counter Terrorism Centre (NCTC) and annual railway budget by then railway minister Dinesh Trivedi.
The UPA will be a minority without the support of the TMC but it will comfortably cross 272 number needed to stay in power if the Samajwadi Party (SP) and the Bahujan Samaj Party (BSP) give their support. In other words, it will be at the mercy of the SP and the BSP.
BSP chief Mayawati has hinted that she would come to the rescue of the UPA-II by saying that she doesn't want election at this juncture. SP chief Mulayam Singh Yadav has also been close to the Congress party of late.
But sadly, it won't be like a walk on the park for the UPA, as both the SP and the BSP are against allowing FDI in retails. On the other hand, the UPA is very unlikely to give up on FDI in retails even if it considers partial rollback in diesel price and subsidy in LPG cylinders.
Now, the big question is - what if the TMC go ahead with its decision to withdraw support; SP and BSP continue to object FDI in retails?
The UPA-II government is bound to sink.