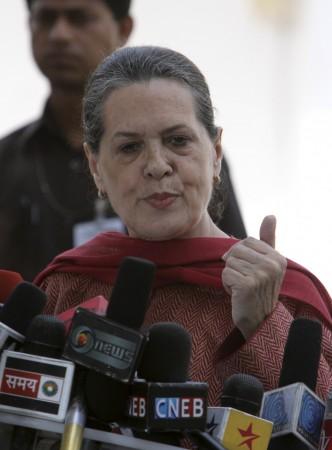 Congress President Sonia Gandhi Tuesday assured to take serious actions against all those involved in corruption, saying individual's actions are denting the party's image.
The Congress-led UPA government, which has been reeling under various corruption charges, completed its three-year rule at the Centre on Tuesday.
While speaking at a party executive meet on Tuesday, Sonia Gandhi warned that strict action would be taken if anyone was found indulging in corruption. She added that the scams were denting the image of the age-old party and promised to clean it up.
Meanwhile, hinting at her displeasure over NCP leader and former Lok Sabha Speaker PA Sangma's Presidential candidature, Sonia refused to give an appointment to him on Tuesday.
In a deal to secure consensus for his candidature for the President post, Sangma sought an appointment to meet Congress national leader Sonia Gandhi at her 10 Janpath residence. However, she turned down his request.
Meanwhile, CNN IBN reports said that "Sonia snub is a clear indication that she has not forgiven Sangma for raking up her foreign origin issue."
Sangma who has announced his strong will to run for the top post has been approaching all political parties to forge a consensus on his candidature so that a tribal leader be elected as President this time around.
However, the Congress is not willing to back Sangma's name for the President post as the party already have lined-up its favourite candidates, including Finance Minister Pranab Muhkerjee and Vice-President Hamid Ansari.
Sangma has reportedly lost support from his own party. His name for the President post was first proposed by NCP chief Sharad Pawar. Pawar later backed off from pushing his choice claiming the party clearly lacked the number to aim for such a big post.
However, at present Sangam is enjoying an unconditional support from the Tamil Nadu Chief Minister and AIADMK supremo J Jayalalithaa and Odisha Chief Minister and BJD head Naveen Patnaik.
The two Chief Ministers have engaged in serious lobbying across political circles to earn their consensus for Sangma's Presidential candidature.