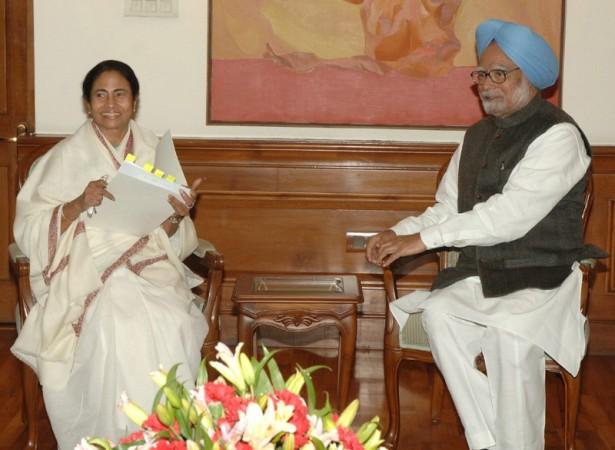 The United Progressive Alliance-II (UPA II) has completed three years in office and Prime Minister Manmohan Singh is hosting a dinner party on Tuesday to celebrate the occasion. But major allies of the Congress are not in a mood to celebrate.
Surprisingly, Trinamool Congress supremo Mamata Banerjee and Dravida Munnetra Kazhagam (DMK) chief Karunanidhi, key allies of the Congress party in the UPA, will not attend the dinner party to be hosted by the PM.
The decision of the Congress' key allies to skip the 3rd anniversary celebration has raised the eyebrows of many as it comes at a time when the UPA government is going through a bad phase with inflation, slow economic growth and scams marring its image and credibility.
Karunanidhi cited bad health for not attending the dinner party whereas the West Bengal chief minister seems to be pre-occupied with her work as the head of the state. While the DMK is sending TR Baalu for the dinner, the TMC is sending Railway Minister and Trinamool Congress all-India General Secretary Mukul Roy.
UNHEALTHY RELATIONSHIP
The Congress party and the Trinamool Congress, the major allies in the UPA government, are hanging on to each other though the crack is obvious. Mamata Banerjee has gone against the policies of the Congress time and again.
The TMC, which has 25 MPs in Parliament, went against the decision of the Congress several times in the past. It openly criticized the Congress when the petrol price was hiked. It joined the opposition parties in opposing the move of the government to allow foreign direct investment (FDI) in retail sector in the winter session of the parliament.
Mamata and her party opposed Home Minister P Chidambaram's anti terrorism proposal National Counter Terrorism Centre (NCTC). TMC also replaced Dinesh Trivedi with Mukul Roy as the Railway Minister after the former hiked rail passengers' fare in the annual railway budget, thus throwing a clear message that UPA is on shaky grounds.
Adding more fuel to the fire, TMC chief Mamata has decided to skip the PM's dinner, and that too just on the heels of her 15-day ultimatum to the UPA government to fulfill her demand for a financial package for West Bengal.
The shaky relationship between the Congress and the TMC has made many to doubt if the unhealthy marriage will last for another two years.