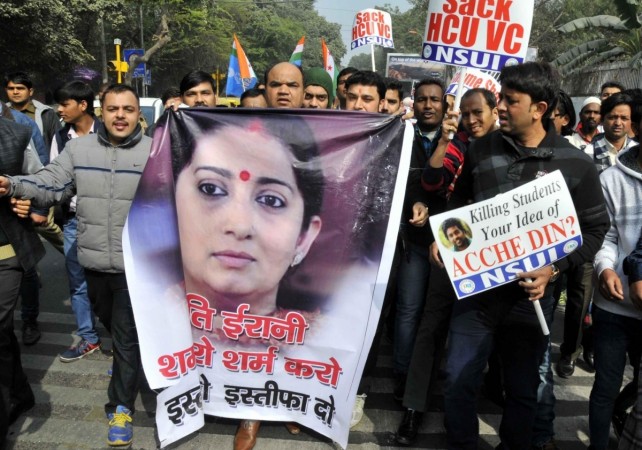 University of Hyderabad student Rohith Vemula was declared dead soon after his body was found hanging from the ceiling in a hostel room, Chief Medical Officer M Rajshree said Thursday. She refuted Union Minister Smriti Irani's claim that no one was allowed to check Vemula's body till next morning.
Security guards and students found Vemula's body sometime between 6:30 p.m. and 7 p.m. in his friend Uma Maheshwar's room on 17 January, the News Minute reported. Rajshree arrived at the room soon after receiving a call, believed to be from one of the students.
"Security officials found the body in NRS hostel room. I got a call around 7:20 p.m. and I rushed to the hostel to examine the body. By the time I reached the body was removed from the ceiling fan. Within 10 minutes we declared him dead. I also informed the VC immediately. He asked me whether there was any possibility of reviving Rohith. I was there till 3 a.m. that day," Rajshree said.
"In fact it was the students who took me to the room and kept on requesting me to do something to revive Rohith," IBN Live quoted Rajashree as saying.
Minister of Human Resource Development Irani Wednesday said in the Rajya Sabha that no one was allowed to attempt to "revive" Vemula till 6:30 a.m. on Jan. 18.
"According to a report submitted to the Telangana high court, the police had reached Rohith's hostel at 7:20 pm when they found the body. The police said that when they reached the hostel, they found the room open and the dead body was on the table... This is what the police said," the News Minute quoted Irani as saying.
"No one allowed a doctor near this child, to revive this child. Instead, his body was used as a political tool. No police was allowed till 6:30 a.m. the following morning. Who tried to help this child? The ones who passed judgement are not the ones appointed by the BLP-led NDA but by the Congress party," she added.
Dr Jayashree said that the police took away the body for post-mortem after she declared Vemula dead.